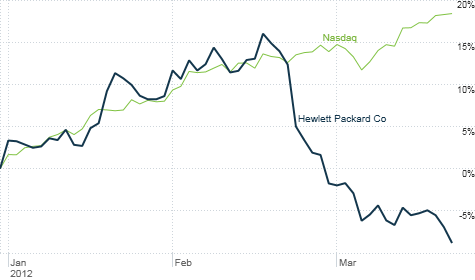 HP has missed out on an explosive rally for tech stocks this year. Click chart for more on the markets.
NEW YORK (CNNMoney) -- HP stands for Hewlett-Packard. Shareholders can be forgiven if they thought it stood for "Help, Please!"
The tech company announced Wednesday morning that it is merging its PC and printer businesses. Word of the restructuring first surfaced Tuesday afternoon.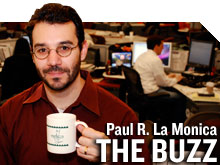 While combining HP's two most consumer-facing divisions may eventually turn out to be a step in the right direction, investors aren't buying it. Shares of HP (HPQ, Fortune 500) fell more than 2% Wednesday.
That continues a disturbing trend.
HP is down nearly 9% so far in 2012, making it the biggest loser in the Dow. The poor performance is even more jarring when you consider that it's not too hard to be going up in a market this robust.
The S&P 500 (SPX) is up nearly 12% year-to-date. Only 18% of the companies in that blue chip index have lost ground in 2012.
Making matters worse is that all of HP's rivals and partners are taking part in this year's big rally.
Dell (DELL, Fortune 500) has gained 17%. Printer maker Lexmark (LXK) is up more than 7%. Cisco (CSCO, Fortune 500), which competes with HP's 3Com networking unit, is up 13%. IBM (IBM, Fortune 500), the company that HP aspires most to be, is up 12% and near an all-time high.
Oracle (ORCL, Fortune 500), which now has former HP CEO Mark Hurd as its president, is up 18% and just reported solid earnings Tuesday. Intel (INTC, Fortune 500) and Microsoft (MSFT, Fortune 500), which make the chips and operating systems that go into many of HP's computers, are up 15% and 23% respectively.
And you probably don't need to be reminded about the stock performance of Apple (AAPL, Fortune 500).
It seems safe to say that the honeymoon period is over for new HP CEO Meg Whitman. The former eBay (EBAY, Fortune 500) chief and California gubernatorial (possibly the most fun word in the English language to say) candidate clearly has her work cut out for her.
Shaw Wu, an analyst for Sterne Agee in San Francisco, said that HP, despite some restructuring in the Hurd era, still needs to simplify its organizational structure. This could be a good start.
"Meg Whitman is looking to streamline costs, and that makes sense," Wu said. "It needs to be restructured and more efficient."
However, Wu said he wasn't sure what merging the PC and printer units will do to help HP, besides possibly saving on overhead. From a pure business standpoint, the move is a head-scratcher.
"These businesses may sell to the same customers, but they are very different. Printers last a lot longer than PCs, so the product upgrade cycle are very different," Wu said.
Also, the PC division really just sells devices, while the printing business tends to make more money not from the printers themselves, but through ancillary products like toner and ink cartridges.
HP backtracked on its plan to spin-off the PC unit once Whitman took over from Leo Apotheker, the former SAP (SAP) executive who had a disastrous (and brief) stint at HP after Hurd left following a bizarre expense report mishap.
Now that HP committed again to computers, it is going to have to get back into the tablet game. Remember that HP bought Palm while Hurd was around, only to have Apotheker kill the company's TouchPad line of tablets after only a few months on the market.
Abhey Lamba, an analyst with Mizuho Securities USA In New York, said the mistake HP made was trying to sell devices running on Palm's WebOS when it was clear that it could not be a viable alternative to Apple's iOS and Google's (GOOG, Fortune 500) Android.
Now HP has to hitch its wagon to Microsoft and hope for the best. Microsoft's tablet-friendly Windows 8 operating system is due out later this year, and early reviews are very favorable.
"Clearly HP needs a tablet strategy, and I think HP understands that. But they have to do something tied to Windows 8," Lamba said.
There is no guarantee that Microsoft can make a dent in mobile. That's why Lamba is advising investors to stay on the sidelines for now.
Simply put, Whitman hasn't yet done enough to convince investors that HP has a viable long-term strategy.
"As a long-time tech investor, I am not tempted to buy HP stock now," said Michael Pytosh, senior portfolio manager with the ING Growth and Income Fund (IAVGX) in New York. His fund owns Apple, Google and Microsoft shares.
"HP is reacting to the fact that dollars in tech are moving away from PCs to tablets and phones. It's not like they are innovating," he added.
Wu has a buy on the stock, mainly because it is insanely cheap. Shares trade at just 6 times fiscal 2012 earnings estimates. But even he concedes that HP has a lot to prove to a very skeptical Wall Street.
"HP needs change. Some people may want it to be more like Apple. But it really needs to be more like IBM," he said.
While IBM presciently exited the PC business in 2005 by selling that unit to China's Lenovo, HP is stubbornly sticking with it. Big Blue has thrived, despite a lack of a consumer business (no tablets or smartphones here!) because it has mastered the art of cross-selling the three S's -- software, servers and services -- that the IT departments of big businesses around the world need.
But as long as HP is still dragged down by low-margin hardware, it will continue to remain Little Blue or IBM Lite.
Best of StockTwits: Oracle had a nice quarter, but some investors are still worried.
ldrogen: $ORCL's strong software numbers (relative to itself) is a good sign for other names in the space, $VMW just getting started.
mnarayannyc:$ORCL feels like they need a stronger networking portfolio to turnaround the hardware business.
bradloncar: Listening to Ellison talk so much about the cloud on the call, I thought I phoned into the wrong company. What a difference a yr makes $ORCL
All great points. I talked about why Oracle's results are a good sign for tech in today's Buzz video. VMware (VMW) is up today too. But Hurd clearly needs to do more to help get the hardware business Oracle inherited in the Sun Microsystems deal on more solid footing.
And it is amazing to see how quickly Oracle has latched on to the cloud. Given the deals for RightNow and Taleo (TLEO), it's tempting to think that you are in a weird dream where Larry Ellison has morphed into former Oracle sales exec Marc Benioff and is now running Salesforce.com (CRM).
The_Real_Fly: $ORCL has the cockiest management in the world, full of hubris.
Management or manager? Ellison is not lacking an ego. But that may not be a bad thing. He clearly has been a master (so far) at pulling off one acquisition after another to keep earnings growing.
And even though there has been a revolving door of heirs apparent during the past decade, Ellison now has two extremely capable lieutenants in Hurd and Safra Catz to soothe investors and customers when he has one of his frequent "Larry being Larry" moments.
The opinions expressed in this commentary are solely those of Paul R. La Monica. Other than Time Warner, the parent of CNNMoney, and Abbott Laboratories, La Monica does not own positions in any individual stocks.