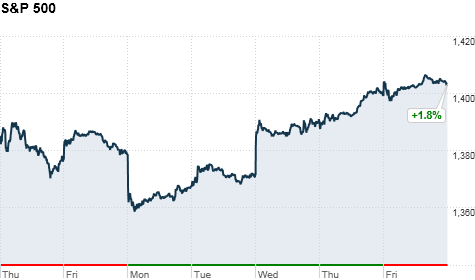 Click chart for more markets data.
NEW YORK (CNNMoney) -- Investors will have to wait until Friday for the most important reading on the economy and the markets: the April jobs report.
While the Labor Department's monthly employment report is typically one of the most watched economic readings during any given month, investors will be scrutinizing it more closely next week as signs of a slowdown have been trickling out.
"What people are really trying to determine is whether we are seeing a slowdown and a possible double dip recession," said Brian J. Lazorishak. "If [jobs are] weak, it raises anxiety that the recovery has stalled out."
Investors hope the report shows that employers added more jobs in April than the 162,000 forecast by economists. In March, employment gains from previous months receded with just 120,000 jobs added.
Over the last few weeks, the number of Americans filing for unemployment claims has also increased. Investors want to know whether that's a blip or the new normal.
But before the jobs data, there are several economic reports for investors to consider. On Tuesday morning at 10 a.m., a key national reading on manufacturing will be released. The ISM manufacturing index is expected to drop to 53 in April from 53.4 in March. Anything above 50 indicates an expanding economy.
Auto manufacturers will release April sales figures for new vehicles at 2 p.m. on Tuesday. Sales are expected to increase to 5.4 million vehicles, up from 5.1 million in March.
Those economic numbers will add more context to a gross domestic product reading that showed growth slowing in the first quarter of 2012.
Despite a choppy week of trading, the U.S. stock markets closed the week higher. The Dow Jones Industrial Average (INDU) gained 1.5%. The S&P 500 (SPX) advanced 1.8%, and the Nasdaq (COMP) moved up 2.3%.
Most bellwether companies have already posted earnings, including Apple (AAPL, Fortune 500), Caterpillar, (CAT, Fortune 500) General Electric (GE, Fortune 500), Bank of America (BAC, Fortune 500), and Citigroup (C, Fortune 500). But with 45% of companies left to report, investors will see a slew of earnings next week, primarily retail, pharmaceutical and media companies.
On Tuesday, Pfizer (PFE, Fortune 500) will report before the bell, and CBS (CBS, Fortune 500) and Chesapeake Energy (CHK, Fortune 500), which has come under fire recently, will report after the close.
On Wednesday before the bell, consumer products company Clorox (CLX, Fortune 500), as well as MasterCard (MA, Fortune 500) and Time Warner (TWX, Fortune 500) will report, with Visa (V, Fortune 500) posting earnings after markets close.
On Thursday, General Motors (GM, Fortune 500) and Sara Lee will release before the bell, and Kraft (KFT, Fortune 500) will release numbers after the close.
Investors won't be able to ignore Europe, which remains in turmoil. England slipped back into recession territory this week, just one of the worrisome recent developments in the region. Spain's bond auctions next week will draw extra scrutiny.