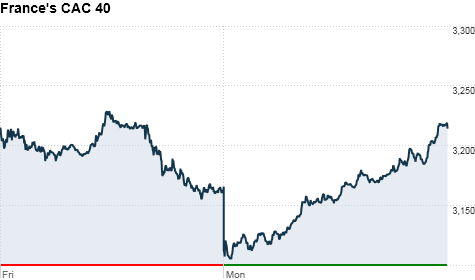 Click on graphic for more world markets data
NEW YORK (CNNMoney) -- European markets recovered from an earlier sell-off Monday following national elections in France and Greece that initially sparked concern about the future of planned austerity measures.
Socialist Francois Hollande, who's been critical of the austerity policies central to European bailout deals for the more troubled economies there, defeated Nicolas Sarkozy in France's presidential election Sunday.
In Greece, which has been teetering on the edge of default, voters left no party within easy reach of forming a new government, heightening fears the bailout deal for the country might collapse.
But after an initial knee-jerk reaction, major European markets clawed back from deeper losses.
France's CAC 40 (CAC40), which tumbled as much as 1.8% in early trading, managed to reverse the sell-off and turn positive, closing up 1.7% in trading in Paris.
The DAX (DAX) in Germany, down as much as 2.3% at one point in the morning, ended the day up 0.1%. Britain's FTSE 100 (UKX) was closed for a public holiday.
U.S. markets were also affected as major indexes were all lower in early trading.
"The good news is that markets are reacting in a very mature fashion," Pimco Chief Executive Mohamed El-Erian told CNN International Monday. "The bad news is we have a lot of political uncertainty ahead of us still."
Karl Schamotta, senior market strategist for Western Union in London, said the bounce back in markets wasn't a surprise, given that markets had been expecting Sarkozy to lose for the better part of a week.
"It makes sense that we'd see a bit of instability, but the reality is there's nothing really surprising about this news," he said.
Meanwhile, Asian markets plunged on reignited eurozone debt fears and Friday's weak U.S. jobs report, which was released after the markets there had already closed for the week.
The Nikkei (N225), which was closed Friday for a holiday, dropped 2.8%. The Hang Seng (HSI) in Hong Kong fell 2.6%, while the Shanghai Composite (SHCOMP) ended flat.
Borrowing costs for major European nations were mixed, with the yield on the 10-year French bond yield sliding to 2.8%, and the yield on the 10-year German bund edging up to 1.61%.
The debt of some of the more troubled sovereign debt rose even more, with the yield on the 10-year Greek bond spiking to just under 23.0%, and the Spanish bond yield climbing to 5.76%. But after initially rising in early trading, yields of Italian 10-year debt edged slightly lower to 5.4%.
In Greece, voters appeared to be hostile to the ruling coalition, raising questions about how the troubled country's austerity program will be implemented.
It is possible no party will be able to form a coalition government in Greece, which could lead to a new round of voting and prolonged uncertainty there.
"It creates more turmoil in the short-term," said Peter Cardillo, chief market economist Rockwell Global Capital. "There's talk of Greece leaving the euro; I don't think it's going to happen, but it hypes the fear factor over Europe. Until the dust settles, it'll be all about Europe."
Schamotta said the Greece vote was likely the bigger drag on markets Monday than the election of a Socialist to lead Europe's second-largest economy, given that the voter reaction against the ruling parties was so much more extreme than forecast.
"There are no clear winners, no clear policy," he said. "There's very little the markets can do about analyzing the outcome. It's going to be very difficult to get a black and white answer for quite a while, and raises the risk that Greece does not live up to earlier obligations and earlier agreements."
In France, Hollande campaigned on the need to focus more on economic growth to reduce public debt, as opposed to austerity, which has been the main policy prescription for the European debt crisis.
While it remains to be seen to what extent Hollande will push his growth agenda, his approach causes concerns about how he might work with German Chancellor Angela Merkel, the key proponent of austerity. Sarkozy and Merkel were the key architects of the deal on European sovereign debt which provided assistance for the countries at risk of default in return to cutbacks in their government spending.
El-Erian said it is much too soon to say how policies in France and across Europe will change due to the French vote.
"People are giving President-elect Hollande the benefit of the doubt, as they should," he said. "There are still quite a few acts in this play."
A German government spokesman said Monday that it is "not possible" to rework that sovereign debt pact, despite calls to do so by Hollande. But he also said that when Merkel had called Hollande Sunday evening to congratulate him, both agreed on the importance of tight German-French relations, and they assured one another that they'll strive to work together.
Schamotta said he believes that despite German statements, there could be a slight shift to more government spending to try to respond to growing economic weakness in Europe. There are 12 nations now in recession in Europe and it is possible Germany will be in recession itself soon. Schamotta said a possible delay of some austerity measures and some increased stimulus spending could be seen positively for markets.
"The Germans have an underlying goal here, and that is to assure fiscal stability. It's not necessarily to impose fiscal austerity," he said.
But the concern is that the debate over any changes in policy will mean more uncertainty, which is typically a negative for financial markets.
The euro slid nearly 1% after the election results, briefly sliding below $1.30 for the first time since late January. But it also regained much of that lost ground and was off just 0.4%.