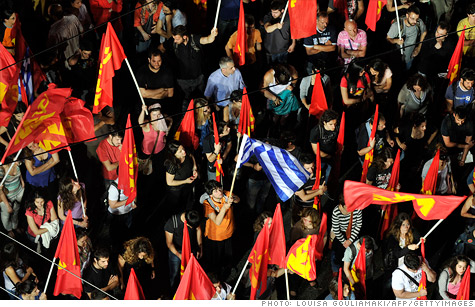 Greek protestors calling for the country to leave the eurozone.
NEW YORK (CNNMoney) -- The threat of contagion in Europe deepened Tuesday, when Greece announced it would hold new elections in June after failing to form a coalition government.
That raises the risk of Greece leaving the eurozone, which could cause further problems for other European economies that are still on shaky ground.
Greek President Karolos Papoulias announced the new vote two days ahead of when many were expecting the formal announcement so, while it wasn't a complete surprise, it still rattled investors across Europe.
Britain's FTSE 100 (UKX) slipped 0.5%, France's CAC 40 (CAC40) dropped 0.6% and the DAX (DAX) in Germany fell 0.8%
Many believe the new vote will usher in an anti-austerity party and lead to the end of the harsh measures, including spending cuts and tax increases, which are deeply unpopular with Greek voters.
But that austerity plan is a key condition for Greece to keep the €130 billion bailout and debt restructuring it needs to avoid a disorderly default on its bonds.
While most Greeks want to remain in the eurozone, many economists doubt that will be possible if the bailout deal collapses. If that happens, it could lead to expensive bailouts for the major economies of Spain and Italy, or perhaps other exits from the eurozone by smaller at-risk members like Portugal.
"Until a government is in place, Greece cannot uphold its obligations under the agreements signed...in March," said Carl Weinberg, chief economist at High Frequency Economics. "This sets the nation on a course toward an imminent hard default and a government shutdown, unless something happens to change the sequence of events."
Borrowing costs skyrocketed for the most vulnerable eurozone countries Tuesday as investors bailed out of sovereign debt. Higher yields will keep pressure on budgets that are already stretched pretty thin.
The looming fear is that a Greek default and exit from the euro could cause a meltdown in the global financial system, starting with the European banks.
Credit rating agency Moody's downgraded 26 Italian banks late Monday, saying, "The potential for further rating transition is heightened by the possibility of rapid increases in problem loans."
Weinberg said the big worry is whether Greece's troubles will spark the kind of meltdown that occurred in September 2008 after Lehman Brothers went bankrupt. That led to a credit freeze and hammered financial markets around the globe.
"What matters to financial markets is the 'Lehman moment' that will happen if -- when -- Greece defaults on its debts," Weinberg wrote in a note Tuesday. "We call this a Lehman moment because a hard default will set off a chain of events that could easily -- dare we say almost certainly -- spiral out of control and debilitate euroland's entire financial system."
Some economists expressed hope that a Greek default and exit from the euro might not be the catastrophe some fear, but only if additional steps are taken by the EU, the European Central Bank and the International Monetary Fund.
"It seems clear that the existing 'firewalls' are insufficient," said Jonathan Loynes of Capital Economics. He said that his firm expects only Portugal and Ireland would follow Greece out of the eurozone because the risk of a complete collapse of the currency would prompt European leaders to step in.
"[But] "we have always underlined the risks that the policymakers simply cannot prevent contagion effects from prompting a bigger break-up," he cautioned. "And right now, those risks look as big as ever."
Yields on Greek bonds climbed toward 30%, the highest level since early March, when Greece reached a deal to restructure its debt.
Spanish 10-year bonds also moved further above the 6% yield, considered the first warning sign of a potential need for a bailout. Spain would be the largest country so far to need that kind of assistance. Yields on Italian debt edged perilously closed toward that 6% mark.
Even the yields on the French and German bonds, generally seen as safer, crept higher.
Meanwhile investors moved to U.S. Treasuries, which are considered safe haven. That pushed the yield on the benchmark 10-year Treasury down to 1.78% Tuesday, within 0.1 percentage point of the all-time low.