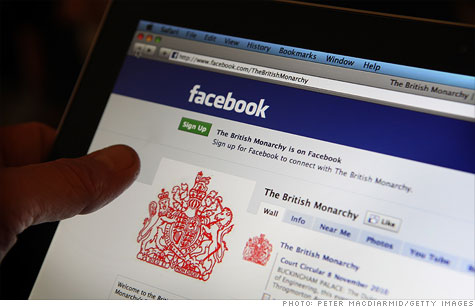 Facebook is big in the United Kingdom and the rest of Europe. Are prospective Facebook investors ignoring the risk of an advertising slowdown as the European debt crisis escalates?
NEW YORK (CNNMoney) -- Facebook isn't exactly picking the best time to go public. But it looks like it probably won't matter.
The company raised the price range for its initial public offering on Tuesday and many retail investors are anxious to get a piece of the social network when it starts trading. I'd be stunned if Facebook (FB) didn't surge out of the gate.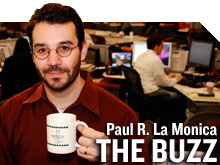 But it's a bit odd that people are willing to put blinders on and ignore all the macro risks in the market right now.
It would be one thing if Facebook's IPO was set to debut at a time when investors were excited about stocks and the broader economy. They are not.
The Nasdaq, while still up 11.5% year-to-date, has fallen more than 7% since hitting a 52-week high in March. Europe debt fears have returned with a vengeance and that has investors nervous.
Several momentum tech stocks have stumbled too. Apple (AAPL, Fortune 500) and Priceline (PCLN) are each down 13% from their 52-week highs.
At the same time, investors are also shunning riskier commodities like gold and flocking back to the safest of safe havens: Treasury bonds.
The yield on the 10-year Treasury is now 1.77%. That is only a smidgeon above the all-time low of about 1.67% from last September. Bond rates fall when prices rise, so the super-low yields are a strong sign of how much demand there is for Treasuries.
U.S. government bonds -- as well as the U.S. dollar -- have benefited in recent weeks from the renewed turmoil in Greece, Spain, Italy, France and just about every other European nation not named Germany.
Typically, the combination of a stronger dollar and low bond yields is bad news for stocks. It is an indication that investors are willing to hold securities that offer little in the way of return because they won't give them agita.
Facebook, in case you have not looked at its SEC filings, is not going to be a risk-free, safe haven, flight-to-quality type of investment.
It is not going to pay a big dividend like AT&T (T, Fortune 500) and Verizon (VZ, Fortune 500), two Dow stocks that have actually done well in the past month in part because they offer anxious investors juicy yields of about 5%.
I wrote earlier this month about many of the Facebook risks that troubled me. But here is one more that should give investors pause -- especially now.
Facebook has more than a decent amount of exposure to Europe. That's right. Nearly 27% of its 901 million users are from Europe. That makes Europe a bigger market for Facebook than the United States.
That could be troubling in the short-term. For anyone that is eager to buy Facebook because they think social networking is a can't-miss trend that is resistant to macroeconomic gyrations, I submit this nugget of information from Facebook's registration statement.
"The average price per ad was also affected by a decline in the average price per ad in Europe in the first quarter of 2012 compared to the same period in 2011 due, we believe, to continuing weak economic conditions in that region."
Yup. Ad prices were down in Europe in the first quarter because of the debt crisis. Anyone that wants to invest in a stock that is highly dependent on advertising has to remember that companies often put the clamps on marketing campaigns during times of uncertainty.
With currency traders talking about the possibility of Greece leaving the eurozone ("Grexit" if you're nasty), it's hard to get more uncertain than that.
So isn't it a bit of twisted logic to treat Facebook as the proverbial greatest thing since sliced bread if a European economic slowdown can derail its growth? After all, the broader market is now convulsing over fears that a European economic slowdown can derail growth.
We learned the hard way back in 2000 that a weakening economy and tech stocks don't mix, no matter how cool those Silicon Valley companies are (Look at me! I'm a CEO wearing a hoodie to the Wall Street road show!) or how many hundreds of millions of eyeballs they have to monetize.
So if you are still looking to invest in Facebook once it starts trading, just remember that many professional investors are doing the exact opposite. They are running away from risk as fast as they can.
Best of StockTwits: Groupon (GRPN) defied the skeptics (like me) with better than expected financial results. But the company still has numerous doubters. Also, one investor suggests an alternative to Facebook IPO mania.
aradchenko1:$GRPN about 620mn shares (640mn outstanding) come off their lock-up on June1.buying opp LOL #stockaction
johnkelly: "Groupon Raised To Buy From Neutral By Citigroup" in other words ,"BUY SO WE CAN SHORT IT" lol. $GRPN
AronPinson: Although $GRPN had a better than expected Q, (due to lower marketing costs) I still believe their biz model is not sustainable.
Shares of Groupon have exploded in the past two days. But some of that might be due to short sellers covering their positions as opposed to true optimism. As of the end of last month, more than 8% of the available shares were held short.
As I pointed out in today's Buzz video, Groupon's stock is still well below its offering price of $20 and the peak of about $31 it hit on its first day of trading. And many insiders may sell once the lock-up period expires next month.
Dasan: you might sharpen your pencils and do some work on $LNKD. Probably an even better model than $FB, bet it's cheaper, too
I am a fan of LinkedIn's (LNKD) more diverse business model. And even though its shares have also been volatile like fellow recent social IPOs Groupon and Zynga (ZNGA), LinkedIn is still well above its offering price.
But LinkedIn is not cheap. It trades at a triple-digit P/E ratio based on 2012 estimates. Depending on how high Facebook goes on its first day and what earnings estimates look like, it might actually be a less expensive stock. Still, it's all relative. Both stocks are extremely rich.
The opinions expressed in this commentary are solely those of Paul R. La Monica. Other than Time Warner, the parent of CNNMoney, and Abbott Laboratories, La Monica does not own positions in any individual stocks.