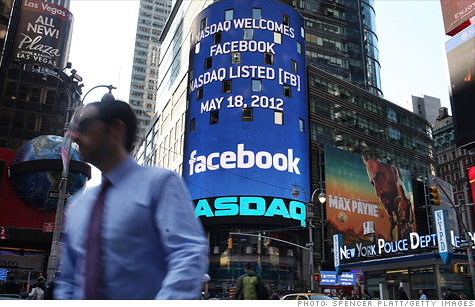 Facebook may only be making its public debut Friday but nearly 70 mutual funds have already snapped up pre-IPO shares on private markets.
NEW YORK (CNNMoney) -- Whether you do or don't like Facebook, you may already own a piece of the social media site: over the past year, nearly 70 mutual funds have snapped up pre-IPO shares on private markets.
While Facebook (FB) made its public debut Friday, T. Rowe Price and Fidelity are among a number of mutual fund giants that have bought up shares on private markets and spread their stake across a number of different funds.
At least 16 T. Rowe Price funds hold shares of Facebook, including T. Rowe Price Growth Stock (PRGFX), T. Rowe Price Blue Chip Growth (TRBCX) and T. Rowe Price New America Growth (PRWAX). T. Rowe Price is a sub-advisor on more than half a dozen additional funds with Facebook, such as Delaware Investments' Optimum Large Cap Growth Fund (OALGX).
More than 30 Fidelity funds have also jumped in, including Fidelity Contrafund (FCNTX), Fidelity Growth Company (FDGRX), and Fidelity Diversified International (FDIVX).
Facebook makes up less than 0.25% of each of the Fidelity funds so it won't have great impact on the overall performance of them, but a handful of T. Rowe Price funds have placed a slightly more substantial bet on the stock.
Facebook represents more than 1% of all assets in the $2.2 billion T. Rowe Price Media & Telecommunications Fund (PRMTX). The T. Rowe Price Global Stock (PRGSX) and T. Rowe Price Science & Technology (PRSCX) funds boast 0.9% and 0.8% stakes, respectively.
Morgan Stanley has also been active, with five of its mutual funds owning Facebook shares, including the $1.7 billion Morgan Stanley Focus Growth Fund (AMOBX), which has a 3.6% stake in the company. It is also a sub-advisor on a few additional funds.
Some smaller mutual funds that specialize in pre-IPO companies have much larger stakes in Facebook.
For example, GSV Capital (GSVC), which invests in "high growth" pre-IPO companies, holds 350,000 shares of Facebook. That represents nearly 7% of its $167 million portfolio. GSV Capital also owns shares of Twitter.
Similarly, the $87 million Firsthand Technology Value Fund (SVVC) boasts 600,000 shares of Facebook, representing about 12% of the total portfolio. Online flash-sales company Gilt Groupe is also among the top holdings in the fund.
While Facebook hasn't made its way into any exchange-traded funds yet, it's just a matter of days before the company hits that stage, too.
The Global X Social Media Index (SOCL) ETF, which includes social media stocks LinkedIn (LNKD), Zynga (ZNGA) and Groupon (GRPN) will include Facebook among its top holdings by late next week.
The Solactive Social Media Index, which Global X tracks, waits five days until after a company makes it market debut to add it to its index. The five-day rule allows the index to vet companies it wants to add.
The First Trust US IPO Index (FPX) ETF, which mirrors an index of the 100 largest and most liquid companies that have gone public in the last 1,000 days, waits seven days to add companies, meaning that Facebook will be a holding before the end of the month.
Though it's already part a number of mutual funds, it may be a while until Facebook creeps into larger ones that track the Nasdaq 100 (NDX) or the S&P 500 (SPX).
The Nasdaq typically requires a company to be public between three and four months before it is eligible for the Nasdaq 100. And since it only rebalances once a year in December, that's the soonest Facebook could join.
Among the guidelines Standard and Poor's uses to determine eligibility, companies need to be public for 6 to 12 months to be considered.
MetLife (MET, Fortune 500) was the fastest company to join the S&P 500. The company went public in April 2000, and was added to the index by December of that year.