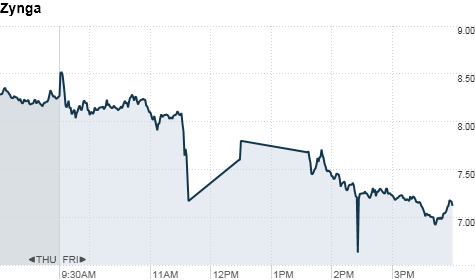 Click the chart to track Zynga's stock.
NEW YORK (CNNMoney) -- Social media stocks just aren't feeling the love, despite Facebook's highly-anticipated stock market debut.
Shares of Zynga (ZNGA), which generates the lion's share of its revenue from Facebook, tumbled as much as 23% Friday after Facebook began trading, before settling down 13%.
In fact, shares lost more than 10% in value within a five-minute period twice during the day, triggering the Nasdaq to halt trading on the stock on two separate instances due to Securities and Exchange Commission rules that were implemented after the May 2010 Flash Crash.
Friday's tumble, however, comes on the heels of a rally in the stock. In the four days leading up to Facebook's first day as a public company, shares of Zynga soared more than 10%.
"A part of this case is investors buying on the rumor, and selling on the news," said Sterne Agee analyst Arvind Bhatia. But the fact that Facebook's market debut has been relatively muted could also be a factor.
Shares of Facebook (FB) spiked as much as 18% above their IPO price of $38 per share, but quickly pulled back. The stock finished up 0.6% at $38.23.
"People expected Facebook to pop a lot more than it has today," said Bhatia. "The fact that it didn't might be making Zynga shareholders a bit more cautious, especially if they consider that the company's fundamentals have deteriorated."
Bhatia noted that traffic on Zynga's core games, like FarmVille, is down about 40% compared to a year ago. That doesn't bode well for future quarters.
Meanwhile, shares of other social media stocks also declined. Groupon (GRPN) shares slid 6.7% and Yelp's (YELP) stock dropped 12%.
LinkedIn (LNKD) shares also fell, but the losses were slimmer, with shares dropping less than 6%. Earlier this month, LinkedIn reported first-quarter profit and sales that doubled from a year earlier.
"The overarching trends for social media are positive-- more people are using social media, more advertisers are using social media, and more money is being spent on social media," said Bhatia. "But not all social media companies and stocks will do well."
Shares of the Global X Social Media ETF (SOCL), which boasts LinkedIn as its biggest holding, were down 6.8%. The ETF also includes shares of Pandora (P), Zynga, Groupon and Yelp.
Facebook will join the ETF by the end of next week, following five days of trading. The five-day rule allows the parent of the Solactive Social Media Index, which the social media ETF tracks, to vet companies it wants to add.
When Facebook first filed for its IPO back in February, Global X CEO Bruno del Ama said the rule helps "avoid speculative trading that happens early on, which can play for or against you."