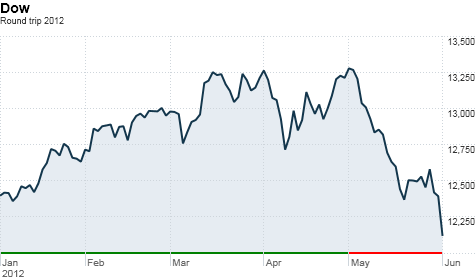 Click on chart for more market data.
NEW YORK (CNNMoney) -- There is a sense of impending doom on Wall Street, and investors are hoping central bankers will brighten the mood with some stimulus next week.
U.S. stocks got crushed Friday after the government said employers hired 69,000 workers in May, compared with a forecasted gain of 150,000 jobs.
The Dow (INDU) erased all of its gains for 2012. The S&P 500 (SPX) and Nasdaq (COMP) are now down more than 10% from their highs of the year, which means the indexes are officially in what investors call a correction.
Meanwhile, the yield on the 10-year U.S. Treasury note fell to an all-time low as investors piled into safe havens.
A sign confirming the deep pessimism in the market, CNNMoney's market gauge -- the Fear & Greed index -- showed investor confidence sliding even farther into "extreme fear" territory on Friday.
Against this gloomy backdrop, in the week ahead investors will be looking for signs that central bankers in Europe and the United States will take steps to support the economy.
The European Central Bank will hold its monthly policy meeting in Frankfurt on Wednesday. ( See correction below.)
On Thursday, Federal Reserve chairman Ben Bernanke will testify before Congress on the outlook for the U.S. economy.
"It's all about the Fed next week," said Keith Springer, president of Springer Financial Advisors in Sacramento Calif. "If the Fed comes through with a QE program, that could save the market -- if not the market will fall off a cliff."
The Fed is under intense pressure from investors to announce another round of stimulus, following Friday's dismal jobs report.
The U.S. central bank has already bought trillions of dollars worth of Treasury debt under its quantitative easing strategy. It has also been using proceeds from assets in its portfolio to buy U.S. bonds in a program code named Operation Twist, which ends later this month.
"The economy is slowing down and stimulus is waning," Springer said. "The Fed needs to do a full-blown QE where they print money, but I don't think they will do that."
Bernanke rarely says anything explicit about stimulus, but investors will parse his every word for hints. The Fed's policy committee will meet on June 19 and 20.
Given the renewed focus on jobs, investors will also be paying close attention to the government's weekly report on new claims for unemployment benefits on Thursday. Other economic reports due next week include data on the services sector and the U.S. trade balance for April.
Meanwhile in Europe, the case for an interest rate cut by the ECB has strengthened as the latest data suggest the economy is headed for a sharp slowdown in the second quarter. But analysts say the central bank will probably hold off until elections in Greece are held on June 17.
Investors will be keen to hear what ECB president Mario Draghi has to say about the banking crisis in Spain, when he addresses reporters after Thursday's meeting. Draghi will take questions on the same day that the Spanish government is scheduled to sell its 2-year, 3-year and 10-year bonds.
The yield on 10-year Spanish bonds rose last week to a high of 6.6%, amid fears that the government will need some form of a bailout to cope with losses in the country's banking sector.
"The truth is that Spain's banks and regions are in need of a vast amount of cash -- together possibly more than €100 billion -- to avert an impending default," said Tobias Blattner, an economist at Daiwa Capital Markets, in a note to clients. "And they need it soon."
Correction -- An earlier version of this story incorrectly stated which day the ECB will meet. CNNMoney regrets the error.