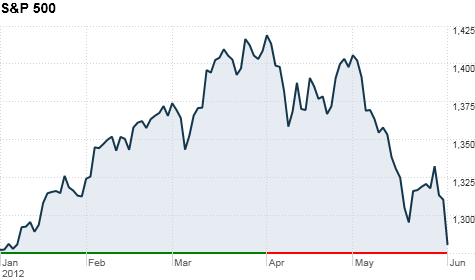 Click for more market data.
NEW YORK (CNNMoney) -- Stocks are being hammered as Europe's debt crisis remains unresolved and the U.S. economy is showing new signs of distress.
The S&P 500 (SPX) index is down nearly 10% from its most recent high in April, which means the broad stock market is approaching what investors call a correction.
The Dow Jones industrial average (INDU) has tumbled nearly 9% from its highest point of the year, while the Nasdaq (COMP) has lost nearly 12% from its peak.
"I wouldn't call it a healthy correction," said Brian Gendreau, a professor of finance at the University of Florida, pointing to record low yields on U.S. Treasuries and plunging oil prices as signs of extreme market pessimism.
Stocks fell sharply in May, with the major indexes suffering the worst monthly declines in two years, as the debt crisis in Europe took a turn for the worse.
The selling carried over to the first day of June, with the Dow erasing its gains for the year.
Friday's retreat came after another disappointing report on the U.S. job market. Investors were also rattled by an index that showed U.S. manufacturing activity slowed in May.
The economic data caused investors to question the widely held assumption that U.S. stocks are "the best house in a bad neighborhood," said Alec Young, an equity strategist at Standard & Poor's.
While he still thinks U.S. stocks are a relatively safe bet, Young said recent reports on economic activity in China and other major economies suggest "the problems in Europe are beginning to affect the entire planet."
"It's like you're fighting a war on two fronts: in Europe and at home," he said.
However, analysts say the U.S. economy should be able to avoid falling back into recession. In addition, the Federal Reserve is widely expected to step in if economic conditions continue to deteriorate.
"This is a relatively normal correction in the face of a very strong market rally earlier this year," said Ryan Detrick, senior technical analyst at Schaeffer's Investment Research, adding that stocks gained about 30% from the lows in October through the first quarter.
If history is any guide, he added, stocks could fall further. Stocks started strong in 2011, before falling 18% during the summer on concerns about Europe and signs of a slowdown in the United States, said Detrick.
"We've seen rough summers before," he said.