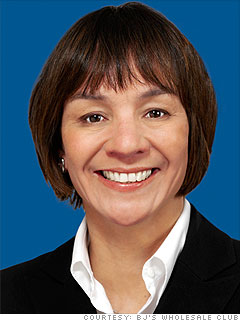 Title: Chairman, CEO and president
Company: BJ's Wholesale Club
Age: 53
Compensation: $4.9 million
Laura Sen's first year as CEO of BJ's Warehouse was one of ups and downs. As consumers became more budget-conscious in 2009, the bulk-retail chain enjoyed a spike in food sales, but stagnation everywhere else.
Following that lead, Sen wants to concentrate on expanding BJ's selection of fresh groceries and improving the way stores merchandise them. She's devoting twice what the company usually spends in a year on renovations to sprucing up clubs across the country.
Technology will be the other major area of investment for BJ's in 2010. Sen wants to update everything from e-commerce to cash registers in an effort to grow store traffic and customers.
Sen returned to BJ's in 2008 after a high-profile departure in 2003 when she was passed over for the CEO position. She also expects to open eight new clubs this year, including the chain's second small-format store.

NEXT: Susan M. Ivey