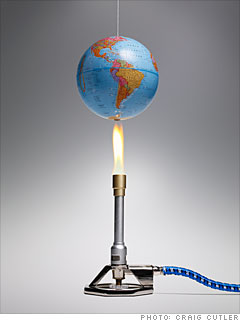 Myth:
Offsets are the answer to climate change.
Reality:
There's no such thing as a free lunch.
Well-intentioned companies sometimes buy carbon offsets to compensate for all the CO
2
they generate when their employees travel. The money goes to, say, farmers who plant trees that suck up enough carbon to offset all that jet and car exhaust.
But how climate-friendly is this tradeoff? How can you be sure the carbon is actually reduced? Was that tree ever planted? If it was, will it still exist five years from now?
Some think offsets are a cop-out. "Companies want to emit what they want to emit. That's why they like this system," says Margaret Swink, communications manager of the Rainforest Action Network. "Carbon offsets make about as much sense as thinking that you can eat a double cheeseburger every day and pay somebody in Ethiopia to eat less for you."
The trick is to beef up the monitoring of offsets. Nonprofit Conservation International and its partners use satellite imagery to track deforestation, and employ inspectors on the ground. Argues Michael Totten, CI's chief adviser on climate and energy: "It's win-win, if it's done right."
-- D.T.
NEXT: Energy: What about the record snowfalls?