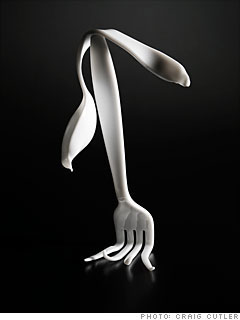 Myth:
It's okay to put plastic containers in microwaves.
Reality:
Stick to ceramic ware.
Sure, that plastic dish you slap into the microwave over and over has the triangular label on it -- and that means it's safe to use, right? Not necessarily.
Even though something is labeled as safe for use in the microwave, it may not be. "The claim on the boxes doesn't mean the plastic won't crack or melt or leak," says Wendy Gordon of the Natural Resources Defense Council.
The danger is real: A substance used to make polycarbonate plastic -- bisphenol A, more commonly known as BPA -- could leach into your food and disrupt your hormonal system.
Plastic container manufacturers insist their products meet government safety standards. Regardless, the NRDC's Gordon recommends that you don't microwave leftovers in plastic dishes. Use a ceramic one instead. "It only takes a second more," she says.
-- D.T.
NEXT: Products: Fluorescent lightbulbs