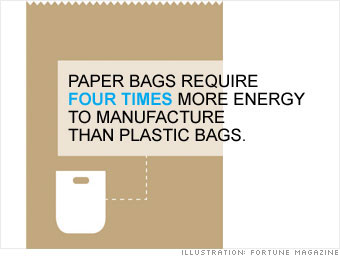 Myth:
Paper grocery bags are better than plastic ones.
Reality:
Plastics, young man, plastics.
You're standing at the checkout line, facing the guilty shopper's dilemma -- paper or plastic?
According to Franklin Associates, a wastemanagement firm, it takes four times more energy to produce a paper bag than a plastic one. Think of all those trees being milled and processed.
Plastic bags do have a downside: They don't degrade easily and can pose hazards to animals. Use a cloth tote instead, and if you insist on plastic or paper, at least reuse -- or recycle -- the bag.
But no matter which type of bag we choose to use, we may be committing worse environmental violations just by driving to the supermarket in the first place.
According to the Sierra Club's Bob Schildgen, Americans burn 10 times more energy getting to the store than it takes to make a single plastic bag.
-- D.T.
NEXT: Products: Organic blue jeans