Stocks set to open slightly higher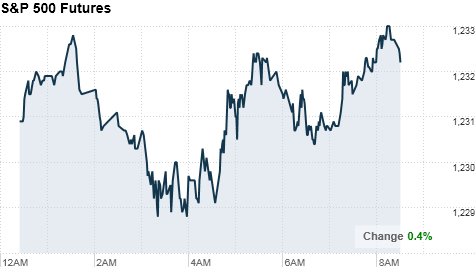 NEW YORK (CNNMoney.com) -- U.S. stocks were poised to open slightly higher Friday, as investors digested the latest data on China's trade surplus and U.S. trade gap, and awaited an update from Washington on the Obama-GOP tax cut deal.
Dow Jones industrial average (INDU), S&P 500 (SPX) and Nasdaq (COMP) futures were up between 0.2% to 0.4% ahead of the opening bell. Futures measure current index values against perceived future performance.
China's trade surplus narrowed 16% in November. Separately, China's central bank announced the latest increase of the reserve requirement ratio for banks, according to the government-controlled media outlet Xinhua.
"We know China is blowing up -- and we say that in the best sense of the word," said Chip Brian, chief executive of MySmartrend.com, which analyzes over 6,000 stocks in realtime. "It is obvious now that the government has recognized they have a growth issue." That China is taking appropriate steps to prevent explosive growth "is a good thing, that speaks to the maturation of the economy itself."
Brian expects that the People's Bank of China will also raise interest rates, as is widely anticipated.
Earlier in the week, investors cheered as Washington appeared close to reaching a compromise deal to extend Bush-era tax cuts for another two years. But House Democrats voted Thursday against considering the tax package, which would also provided for extended unemployment benefits and a break in payroll taxes.
Investors are mostly confident that some tax rate hike will be passed. "You are going to have a bipartisan coming to the middle," said Brian. "When that is going to take place, I couldn't tell you specifically."
On Thursday stocks ended mixed, as a stronger dollar dragged on commodity-related companies, while financial and tech shares firmed. Going forward, "we will continue to move sideways to upwards, which is good," said Brian.
World markets: Asian markets ended mixed. The Shanghai Composite gained 1.1%, while the Hang Seng in Hong Kong slipped less than 0.1% and Japan's Nikkei fell 0.7%.
China's trade surplus fell to $22.9 billion in November, according to the state-controlled Xinhua news agency in China. That marks a 16% decrease over October's $27.2 billion surplus.
Separately, the People's Bank of China said it would lift the bank reserve requirement ratio by one-half percentage points as of Dec. 20. Banks will now have to set aside 18.5% of their reserves, according to Xinhua. This is the sixth such hike this year, as China attempts to put a damper on what "runaway lending amid accelerating inflation."
European stocks rose at midday. Britain's FTSE 100 edged up 0.1%, the DAX in Germany rose 0.7% and France's CAC 40 added 0.2%.
Economy: The U.S. trade gap narrowed by nearly $6 billion in October to $38.7 billion, the Commerce Department said. The report was a surprise, as economists had expected the trade gap to have widened to $44.5 billion in October from $44 billion the previous month.
Companies: The S&P 500 is shaking up the contents of its broad-market Index, according to a release from the Index. F5 Networks Inc. (FFIV), Netflix Inc. (NFLX), and Newfield Exploration Co. (NFX) will replace The New York Times Co. (NYT), Office Depot Inc. (ODP, Fortune 500) and Eastman Kodak Co. (EK, Fortune 500) Cablevision Systems Corp. (CVC, Fortune 500) is taking the place of King Pharmaceuticals Inc., but only because King Pharmaceuticals in a deal to be purchased by Pfizer (PFE, Fortune 500) -- a deal expected to be completed soon.
Johnson & Johnson's (JNJ, Fortune 500) McNeil division late Thursday announced a recall of more than 13 million packages of various Rolaids medicines, following consumer complaints of foreign materials -- including metal and wood particles. Shares of Johnson & Johnson were little changed in premarket trade.
Green Mountain Coffee (GMCR) reported fourth-quarter net income of $27 million, or 20 cents per share. Analysts had expected earnings per share of 20 cents, according to estimates from Thomson Reuters.
Green Mountain also lowered the bottom end of its forecast range by 3 cents, citing "expected volatility in coffee prices, and flexibility to support anticipated new product launches."
Investors were more disappointed by the fact that the company said it would no longer provide specific guidance about its K-Dup sales. Shares of Green Mountain Coffee sank 15% in premarket trade.
Community Health Systems, Inc. (CYH, Fortune 500) announced Thursday that it has made an offer to acquire smaller rival Tenet Healthcare Corporation (THC, Fortune 500) for $6 per share, a premium of 40% over Tenet's closing stock price Thursday. An initial offer to Tenet was rejected and this is Community Health Systems' second attempt. Shares of Community Health Systems fell 4%, while shares of Tenet Healthcare surged 53% in premarket trading.
Currencies and commodities: The dollar lost ground against the euro, the Japanese yen and the British pound.
Oil for January delivery added 35 cents to $88.72 a barrel.
Gold futures for February delivery fell $6.70 to $1,386.10 an ounce.
Bonds: Bond prices were mixed. The price on the benchmark 10-year U.S. Treasury edged down, pushing the yield up to 3.25%.