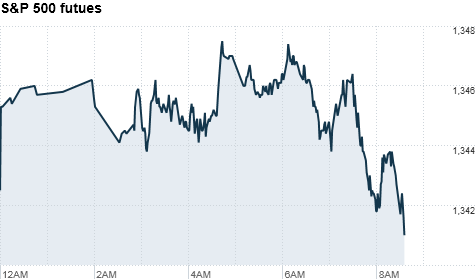 Click on chart for more premarket data.
NEW YORK (CNNMoney) -- U.S. stocks were poised for a lower open Friday, with futures losing momentum after Caterpillar released disappointing earnings.
It's been a volatile morning, with stock futures whipsawing on either side of breakeven as investors weigh the latest batch of corporate earnings, along with the latest bailout plan for Greece and U.S. debt ceiling talks.
Dow Jones industrial average (INDU), S&P 500 (SPX) and Nasdaq (COMP) futures were lower ahead of the opening bell. Futures measure current index values against perceived future performance.
U.S. stocks surged on Thursday, following news that European leaders reached an agreement to contain Greece's debt crisis.
The aid package, which officials said will cover all of Greece's financing needs, involves lowering interest rates and extending the payback period on existing loans to Greece from the EU and International Monetary Fund.
Market momentum was carrying over to Friday, until Caterpillar released earnings, which knocked futures into negative territory.
"Caterpillar fell short of what Wall Street was expecting," said Derek Hoffman, chief executive of Wall Street Cheat Sheet. "They missed by three cents so people are selling the stock."
Companies: Before the bell, Caterpillar (CAT, Fortune 500) reported a profit of $107 million, a 30% increase from the second quarter of 2010. However, shares fell 7% in premarkets since the heavy equipment manufacturer fell short of Wall Street expectations.
Caterpillar earned $1.72 per share, slightly missing the $1.75 forecast from Thomson Reuters analyst consensus.
Caterpillar Chief Executive Doug Oberhelman said in the company's earnings report that, "While we expect moderate U.S. economic growth, we believe a lack of confidence in the business climate is the major impediment to a stronger recovery and job creation."
McDonald's (MCD, Fortune 500) beat Wall Street expectations with a surge in earnings of $1.35 per share, compared to $1.13 in year-ago quarter. Analysts had expected earnings of $1.28 per share, according to a consensus from Thomson Reuters. Shares rose 2% in premarket trading.
General Electric (GE, Fortune 500) reported operating earnings of $3.7 billion or 34 cents per share -- a jump of 17% from the year-ago quarter. Shares were up 1.2% in premarkets.
Former Dow member Honeywell (HON, Fortune 500) beat analyst estimates with second-quarter earnings of $1.02 per share. The company reported revenue of $9.1 billion, excluding $234 million from a newly discontinued operation. Shares fell about 1% in premarket trading.
Verizon (VZ, Fortune 500) reported earnings per share of 57 cents, topping analyst estimates by 2 cents. The report marks a sharp turnaround from last year's second quarter, when the wireless giant reported a loss of 42 cents per share. Shares were slightly lower in premarket trading, after the company announced it didn't sell as many iPhones as anticipated.
The Wall Street Journal reported late Thursday that the Department of Justice is preparing subpoenas against its parent company, News Corp (NWSA, Fortune 500)., as part of a preliminary investigation into the company's phone hacking scandal.
On Thursday, Microsoft (MSFT, Fortune 500) said net income in its fiscal fourth-quarter rose 30% to $5.9 billion, or 69 cents per share. Analysts polled by Thomson Reuters had forecast earnings of 58 cents per share. Microsoft shares fell almost 1% in premarket trading.
Economy: There are no major economic reports on tap Friday.
World markets: European stocks were higher in morning trading. Britain's FTSE 100 climbed 0.6%, the DAX in Germany rose 0.3% and France's CAC 40 gained 0.8%.
Asian markets ended the session higher. The Shanghai Composite ticked up 0.2%, the Hang Seng in Hong Kong increased 2.1% and Japan's Nikkei rallied 1.22%.
Currencies and commodities: The dollar strengthened against the euro and British pound, but weakened against the Japanese yen.
Oil for September delivery slipped 21 cents to $99.92 a barrel.
Gold futures for August delivery rose $14.90 to $1,601.90 an ounce.
Bonds: The price on the benchmark 10-year U.S. Treasury rose, pushing the yield down to 2.98% from 3.01% late Thursday.