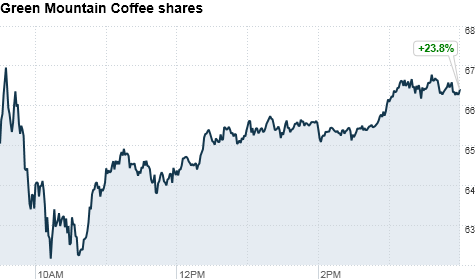 Click the chart for more info.
NEW YORK (CNNMoney) -- Shares of Green Mountain Coffee Roasters surged nearly 25% Thursday after a stellar earnings report.

After the closing bell Wednesday, Green Mountain (GMCR) reported $96 million in net income for the quarter ended in December, a 264% increase over the same quarter in the previous year that crushed analyst estimates.
After closing at $53.63 Wednesday, shares of Green Mountain, which makes the popular K-Cup, opened the trading day Thursday at $65.05 and closed at $66.42, up 23.8%.

"The value of single-serve, at-home brewing seems to be resonating with consumers," Green Mountain CEO Lawrence Blanford said in a statement announcing the earnings.

In October, powerful hedge fund manager David Einhorn recommended shorting Green Mountain's stock due to concerns over the company's accounting.
Being targeted by an influential short seller such as Einhorn often makes a stock more volatile. In November, Green Mountain shares tumbled 39% a day after the company reported its first sales miss in two years.

The stock is still well below the highs above the $110 mark that it hit in September prior to Einhorn's comments.