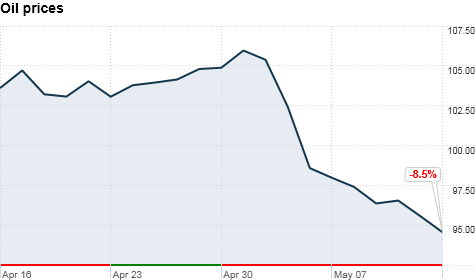 Click on chart to track commodites
NEW YORK (CNNMoney) -- Oil prices fell more than $2 a barrel Monday, hitting a five-month low as worries over Greece and JPMorgan's big loss spooked traders.
U.S. crude sank below $94 a barrel early Monday before recovering slightly.
The problems in Greece and the fallout if the country leaves the eurozone seemed foremost on investors' minds. If Greece leaves the common currency, it could touch off a deeper recession in Europe that would cut into oil demand.
"The markets are pricing in gloom," analysts wrote Monday in the Kilduff Report, an industry newsletter. They are worried about "demand growth as the EU's maladies spread; and spread they will."
The uncertainty is causing investors to leave assets like stocks and commodities and flock to safer bets like bonds.
Last week, the number of investors holding contracts that bet on rising oil prices declined 33%, according to Addison Armstrong, director of market research at the brokerage Tradition Energy. It was the biggest decline since April 2009.
"Trading risk is being reduced as uncertainty over Greece's fate in the eurozone mounts," Armstrong said in research note Monday.
Crude prices have come down from almost $110 a barrel earlier this winter, dropping around 8% in the last few weeks alone.
The sell-off was originally sparked after negotiations resumed with Iran over that country's nuclear program. Tensions with Iran had pushed crude prices up for much of the winter.
The sell-off has been good for drivers, as gasoline prices appear to have peaked earlier than normal.
The run-up in oil prices earlier this year had many analysts predicting that average gasoline prices would hit a new record of more than $4 a gallon.
Gas prices rose to nearly $4 a gallon in April, but have since pulled back to an average of $3.73, according to AAA.
Also weighing on crude prices Monday is uncertainty over the fallout from JPMorgan's (JPM, Fortune 500) $2 billion trading loss.
Investors fear the loss will lead to greater regulation in the financial markets, including oil trading.
Greater regulation may "reduce interest in everything but U.S. Treasury bills and the area in the backyard under the tomato plants for capital placement," said Kilduff analysts.