Energy efficiency by remote control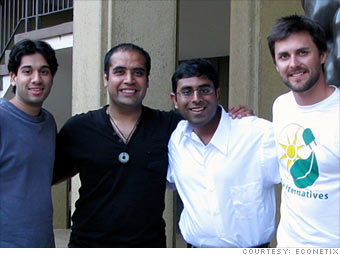 From left: Laxmikant Joshi, Karan Chaudhry, Saumya Garg and Brendan Wypich
Company:
Econetix
School:
Stanford University
Team members:
Laxmikant Joshi, Saumya Garg, Brenden Wypich, Karan Chaudhry, Ann Bordetsky, Peter Russo
Concept: Most homes waste considerable amounts of energy, but solutions such as replacing appliances and renovating buildings are prohibitively expensive, and few people are vigilant about unplugging unused equipment and turning off lights. Econetix is developing a home energy kit that's easy to install and will theoretically save enough energy to pay for itself in about a year.
The kit includes a "smart" thermostat that automatically optimizes heating and cooling, remote-controlled light switches that install into sockets rather than walls, and power strips that turn off standby power to unused devices. All of the kit's elements can be controlled from a Web site or mobile phone. Econetix also plans to gather and correlate user data and encourage energy-saving competitions among users, probably via social networking sites such as Facebook.
Timeline: The team has working prototypes of the power strips and lighting controls, and plans to complete a working prototype of the thermostat by mid-2009. They're currently seeking $2.2 million in Series A funding; if that comes through soon, they plan to beta-test 500 to 1,000 units and begin negotiating sales agreements with big box retail stores in the fall. By the end of 2009 they expect to begin full-scale manufacturing and retail sales. -Rose Fox

NEXT: Reprogramming the credit card industry