Matching high school athletes with colleges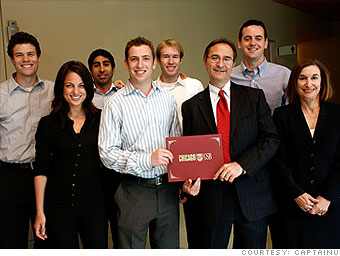 Front row (left to right): Nicole Shariatzadeh; Michael Farb, Steven Kaplan and Ellen Rudnick; back row: Avi Stopper, Umar Haider, Paul Hamilos, Bryan Wetta
Company:
CaptainU
School:
University of Chicago
Team members:
Avi Stopper, Michael Farb, Mike Pilat, Nicole Shariatzadeh
Concept: For an elite Division I-bound high-school athlete, navigating the maze of college recruitment means choosing among the crowd of coaches lined up outside the door. But fewer than 10% of the estimated 1.5 million young athletes seeking a spot on a college sports team find themselves in that enviable position. The rest maneuver through a chaotic and competitive process with relatively little guidance.
That's where CaptainU comes in. Leveraging the connectivity of the Web, CaptainU demystifies the sports recruiting process for student athletes, coaches, and parents. The site features detailed information about programs around the country and tools to help students advertise their skills. Students get help finding the right program, while coaches get access to a pool of suitable prospects without crisscrossing the country.
CaptainU uses a subscription business model. Coaches receive full access for free, while athletes can build a free basic profile or upgrade to a $399-per-year premium membership for access to a suite of recruiting tools. CaptainU also plans to pick up revenue through advertising and consulting services.
"The whole philosophy is that you have to actively market yourself," says Avi Stopper, the site's founder and president. Stopper was the former captain of Wesleyan's soccer team and an assistant men's soccer coach at University of Chicago, where he earned an MBA in 2006. "It's consistent from sport to sport. Kids have no idea how to approach the recruiting process."
CaptainU launched in September with a focus on soccer. Within six months it had registered thousands of high school athletes and their parents. Stopper and COO Michael Farb say 91% of their site's class of 2009 participants have signed with a college team. The startup shared first prize and a $25,000 award at Chicago's New Venture Challenge business plan competition.
Timeline: CaptainU expects to expand into additional sports in years two through five. - Kathleen Ryan O'Connor

NEXT: A new vision for restoring eyesight