Preventing life-threatening falls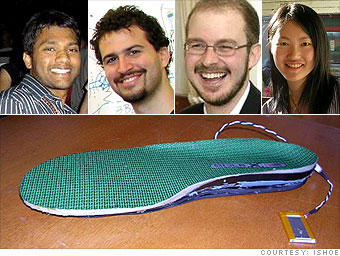 iShoe team members COO Amit Garg, CEO Erez Lieberman, CFO Mauro Piazza and staff scientist Qian Yang, with their prototype
Company:
iShoe
School:
Harvard University
Team members:
Erez Lieberman, Katharine Forth, Qian Yang, Ricardo Piedrahita, Mauro Piazza, Amit Garg
Concept: Nine million elderly Americans experience chronic falls, often leading to hip fractures and, occasionally, to death. Treatment currently only occurs after a fall, as there is no widely available way to diagnose poor balance in the elderly. IShoe plans to manufacture free-standing and mobile devices that detect balance deterioration, allowing those at risk to receive treatment to correct balance problems before a life-threatening fall.
The team's product will be an affordable bathroom scale that calculates weight and body mass index and allows users to track balance changes over time. After that, iShoe plans to expand into shoes and insoles.
"We hold three patents, have won the Lunar Ventures Business Plan Competition and are in the finals of two others, and have a working prototype," says COO Amit Garg. "IShoe has been endorsed by the American Association of Retired People (AARP) and called one of the top 20 'Biotech Breakthroughs that will Change Medicine' by Popular Mechanics."
Timeline: The Lunar Venture competition awarded iShoe $50,000. The venture has also applied for $500,000 in Small Business Innovation Research (SBIR) grants and reached the second phase of the National Space Biomedical Research Institute's grant competition.
"We are currently developing relationships with potential investors, especially venture capitalists and angel investors," Garg says. "Investment has been down overall, but we are confident investors will recognize the merits of our product and our team." -Rose Fox

NEXT: Medical imaging without the radiation