A secure chat zone for tweens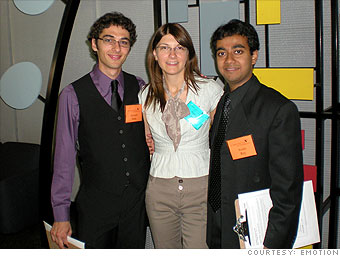 Co-founder Ed Suda, Web Manager Anica Jovanova and co-founder Avelo Roy
Company:
eMotion
School:
Illinois Institute of Technology
Team members:
Avelo Roy and Ed Suda
Concept: EMotion's flagship product is the "BFF<3 necklace," a wireless communication device that takes the form of a fashion accessory for the tween set. The necklace uses radio frequency to communicate with other necklaces within a 1,000-foot range, sending coded messages though patterns of lights and vibrations.
"We saw this market as very underserved," says Ed Suda, one of eMotion's co-founders. "There is a large problem with Internet security with these girls, so we took our core [idea] of people who are physically apart but emotionally together and applied it to this age group."
BFF<3 Necklace holders can tap into an online social networking site, bfflessthan3.com, where they can chat with friends and program their coded messages. However, holders can only interact online with friends who have synced their necklaces face-to-face, a key security feature that eliminates interaction with unwanted "friends" and online strangers.
Suda developed eMotion with Avelo Roy to find a way to express "touch" in online communication. The partners originally planned to execute this idea through a "hug jacket" that would simulate touch over a far distance. Although the idea was well-received, winning the Illinois Institute of Technology's fall 2006 Business Idea Challenge, a lack of funding and technical resources led the partners to downsize their vision to a smaller necklace.
To acquire a staff, Roy and Suda created a course at the Illinois Institute of Technology, where students can work for eMotion and receive credits. They have also actively recruited MBA students and designers from the school's ranks.
EMotion has already completed a prototype and a small-scale launch of BFF Notes, an introductory paper notebook product intended to acquaint potential customers with the BFF<3 brand.
"We're really pushing hard to build our business in this little time before the competition," Suda said. "The competition is great, but we're also looking to build a sustainable company."
Timeline: EMotion has raised $40,000 over the past year from angel investors and competition prize money, but the founders estimate that they will need $500,000 to cover the launch costs for prototyping, manufacturing and marketing their product. The company has a working a working prototype and a Web site that is currently undergoing focus-group testing. EMotion began to sell BFF Notes in early March, and hopes to have BFF<3 Necklaces on the market by December 2009. -Christina Crapanzano

NEXT: An unmanned aircraft that can 'see'