Cutting energy costs in skyscrapers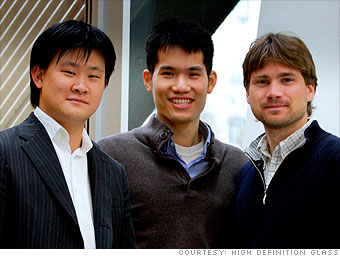 Paul Suthapong, Jin Suntivich and Erik Williamson
Company:
The High Definition Glass Company (HDG)
School:
Massachusetts Institute of Technology
Team members
: Paul Suthapong, Erik Williamson, Jin Suntivich
Concept: "It started with a plastic bag," Jin Suntivich says.
Suntivich, a material science and engineering Ph.D. candidate, began to explore the technological components of what would become the High Definition Glass Company's flagship product during a materials class at MIT. At first, Suntivich investigated the possibility of using recycled plastic bags to enhance the energy-saving properties of window glass. With the help of MBA student Paul Suthapong and other industry experts, the fledgling HDG's vision evolved from recycled plastic to an "extreme performance" window coating.
The team's water-based, environmentally friendly coating is just a nanometer thick, but it features antibacterial, anti-glare and self-cleaning properties, and boosts energy efficiency. HDG targets skyscraper developers looking to reduce their utility and maintenance costs.
"With the current economy and cost of energy in general, this product will be more valuable in the future as time goes on," says Erik Williamson, also an MIT Ph.D. candidate in materials science and engineering. "It's more money up front, but over the life of the building and with energy costs rising, it will save a lot of money."
Timeline: HDG is currently in "Phase 0," working to solidify its business model and industry contacts and refine its prototypes. Suthapong says it will be at least six months before they begin to approach venture-capital investors about a formal first round of funding. -Christina Crapanzano

NEXT: Faster, cheaper medical diagnostics