An unmanned aircraft that can 'see'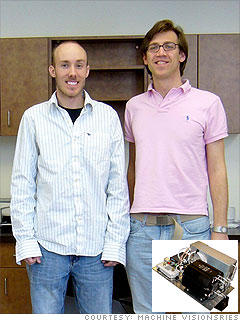 VP of Standards & Regulations Brian Berseth and CEO Florent Martel with their prototype.
Company:
Machine Visionaries
School:
University of North Dakota
Team members:
Florent Martel, Brian Berseth, Richard Schultz and Craig Silvernagel
Concept: Sophisticated unmanned aircraft systems (UAS) save lives in times of war and can provide a distinct tactical advantage. The U.S. military spends $2.5 billion a year on the technology, a figure expected to grow by another $1 billion over the next two years.
But ever since the first unmanned flight, the concept has been hobbled by one inescapable fact: Without a pilot on board, UAS are incapable of the "see and avoid" safety net - and that restricts their potential, say the founders of Machine Visionaries.
They believe their patent-pending "SafeSkies Sense & Avoid" technology will revolutionize aviation electronics by allowing UAS to "see" their surroundings, from mountain ranges to fellow aircraft, and react appropriately. Such technology could catalyze a major expansion of UAS deployment, expanding their military use and even allowing them to eventually share civilian airspace, says Florent Martel, Machine Visionaries' head of operations and a University of North Dakota graduate student in electrical engineering.
Machine Visionaries' home base at UND, considered the Harvard of aerospace studies and home to the Center of Excellence for Unmanned Aircraft Systems Research, is a major competitive advantage. The team also has great access to their subjects: The Grand Forks Air Force Base is an operating location for unmanned aircraft, including the military's famed Predator.
Research and development has been supported with $5 million in federal and state research grants through the university and $100,000 from the executive team. They are now seeking $1.1 million in return for an equity share, and have requested a $7.5 million federal grant. They also anticipate going after $1.4 million in second-round funding.
Timeline: Machine Visionaries is on track to introduce its product to the U.S. military in the third quarter of 2009. The prototype made its maiden test flight in August to collect preliminary data. Next up is a collision avoidance flight demonstration in July, a high-profile event which will be open to the media. - Kathleen Ryan O'Connor

NEXT: Cutting energy costs in skyscrapers