Mortgage due, severance running out
Raul Camejo had always been in high demand as an internal auditor - until just before he was laid off earlier this year, when calls from recruiters suddenly dried up.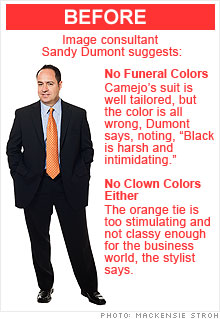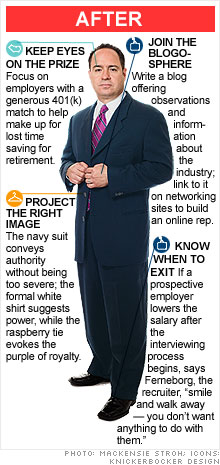 jobs by

Find a Job
(Money Magazine) -- Name: Raul Camejo
Age: 45
Home: Ramsey, N.J.
Profession: Internal auditor
Annual pay at last job: $215,000
Special skills: Fluent in Spanish and Portuguese
Personal: Married with two children
When Raul Camejo's position as head of internal audit for a large insurance broker was eliminated earlier this year, he figured finding another employer would be a snap.
After all, at age 45, he was in the prime of a 23-year career spent with such marquee firms as PepsiCo, Avon, and Reader's Digest. "I thought I was invincible, and nothing would stop me," he says.
But the calls Camejo used to get routinely from recruiters have stopped. So far he's been to only a handful of interviews and has already been low-balled on salary. At an interview for a job that he was originally told paid $145,000 - far less than his $170,000 former base pay - he was told that highly qualified people were available for as little as $120,000. In the end, though, he wasn't even offered the job.
Fortunately Raul's wife, Maria, has a small home business importing children's shoes. But his severance is running out, and Raul is growing concerned about how they'll pay the mortgage and support their children, Cristina, 10, and Raul, 8.
He's tried talking to recruiters, joining industry groups, contacting former colleagues, and even chatting up parents at soccer games. As the months slip by with no job offers, he wonders what he's doing wrong.
"I've never been out of work before," he says, "so this is new territory for me."
The job hunt
Career coach Roy Cohen and executive recruiter John Ferneborg recommend:
Take down red flags. Nearly all job hunters have something in their résumé that's a potential turnoff. For Camejo, it's the eight companies he's worked for since 1986. "You have to be careful that people don't read something negative into that," says Cohen.
Rather than avoid sensitive subjects or seem defensive, face the matter head-on to get it off the table quickly. Camejo should say, "I'd love to walk you through my résumé so that you understand the logic behind these moves," and then make each decision seem natural and inevitable. Example: "After starting a family, I decided to accept a job that didn't require so much traveling."
Create an online presence. Camejo needs to be more active on networking sites like LinkedIn and Facebook - joining groups, asking questions, providing helpful information to people in his network, and offering links to other sites where he is featured.
Camejo should also make the $269 investment to post his profile at BlueSteps.com, which Ferneborg says is often used by members of the Association of Executive Search Consultants to find job candidates after they've exhausted their own databases.
"I just did a search for a CFO in New York City and found two of the final four candidates at BlueSteps," says Ferneborg.
Don't talk money upfront. When prospective employers tell Camejo his previous salary seems high, he says, "Based on the market, I can be flexible." Too apologetic, says Cohen. The coach suggests saying instead, "I'm happy to talk about salary, but first let me emphasize that what's most important to me is to have a meaningful position at a stable organization."
Then Camejo should detail his qualifications and skills, and how he'd add value to the company. Once he's sold the interviewer, he'll be in a stronger position to negotiate salary.
If he gets an offer, he should express gratitude but ask for a day to think it over and wind down other conversations. "If you have other options, they can be nudged up a bit," says Cohen. But don't wait too long or the offer may be pulled.
The financial plan
Financial adviser Don Lord suggests:
Cut the fat. With Camejo's severance soon to run out, Lord urges him to look for big-ticket items he can cut from the family's budget. For instance, they can save $750 a month by not leasing another Acura MDX (the contract ends soon and they have two other vehicles), plus $400 by suspending contributions to the kids' college funds.
Camejo should also look for consulting work to bring in extra income. That way, between the couple's earnings and Raul's unemployment benefits, they will be able to cover their living expenses without dipping into savings.
Rethink retirement. Before he was laid off, Camejo hoped to retire at 55. But between his unemployment and the hit his investments have taken, that's probably no longer realistic.
Getting back on track will be a two-step process. First, Camejo, who has 40% of his assets in international funds, should dampen the risk in his portfolio by shifting half that money into a mix of broadly diversified U.S. index and exchange-traded funds. Then, once Camejo finds a new job - Lord urges him to focus on employers with a good 401(k) match - he should contribute the max to his plan.
Update
Things are looking up: Camejo is now a finalist for a job as head of internal audit for a telecom company. If he gets an offer, he says he feels better prepared for what to say. Meanwhile, to keep expenses down, he's returned the Acura and cut back on family meals out. "I only hope in six months we're not drinking wine out of a box," he says, only half jokingly. For now the good life that comes with a six-figure job will just have to wait.


The challenge: Reversing a career time-out

The challenge: Re-entering after retirement
Got a question about your job search for our experts? Send your questions to realstories@cnnmoney.com and they could be answered in an upcoming story.

Send feedback to Money Magazine
Features

These Fortune 100 employers have at least 350 openings each. What are they looking for in a new hire? More

It would be the world's second-biggest economy. See how big companies' sales stack up against GDP over the past decade. More