Coming out of retirement at 62
Robert Bertrand thought he had planned his retirement perfectly. Now he is suddenly back hunting in a market that has little interest in older workers, no matter how experienced they are.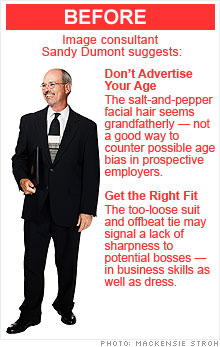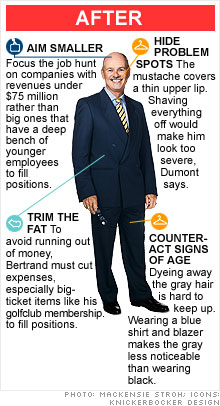 jobs by

Find a Job
NEW YORK (Money) -- Name: Robert Bertrand
Age: 62
Home:Alpharetta, Ga.
Profession: Senior project manager
Salary at last job: $150,000
Special skills: 0.8 handicap golfer
Personal: Married with three grown children, a teenage stepson, four grandkids
When Bob Bertrand retired in early 2006 at age 58 to live out his dream of playing on the Senior Professional Golf Tour, he thought he had the money part covered.

Throughout his career he'd saved the max in his company retirement plans; as a result, he had $425,000 socked away, plus another $500,000 or so in stock options.

Meanwhile, his wife, Susan, now 50, earned $140,000 a year as a mortgage company executive. Bertrand calculated that even if he never won any prize money, he'd still never have to work again.
Then the housing market blew up, taking Bertrand's retirement plan with it. The stock options became worthless when their issuer - Home-Banc Mortgage Corp., where Bertrand had been vice president of strategic planning before retiring - went bankrupt in 2007. The bankruptcy also cost Susan her position.

Though neither has found a lasting job since, they've essentially maintained the same lifestyle. As a result, the Bertrands have burned through most of their savings; virtually all that's left is an annuity worth $170,000.
Bertrand, now 62, needs a job immediately. But the search has become so frustrating that he admits he sneaks out to the links more than he should. "The golf course is my escape," he says. "It's the place here I feel really good about myself."
The job hunt
Career coach Roy Cohen and executive recruiter John Ferneborg recommend:
Target smaller companies. It's tough for sixtysomething professionals to get hired even in the best of times. And Bertrand faces the added stigma of having been out of the workforce for three years. Ferneborg says he's making things even harder by focusing on large companies that tend to fill openings from a deep bench of ambitious younger execs.
The solution? Target manufacturing and consulting firms with revenue under $75 million. These firms are more likely to value a seasoned executive with experience at a big corporation. (Bertrand spent 21 years at Allied Chemical.) "Smaller companies often prefer someone who's been around the track," says Ferneborg.
Demonstrate vitality. Bertrand doesn't mention golf on his résumé. That's a mistake, Cohen says. He should portray the past three years not as retirement but as a career change that shows off his physical energy, ambition, and ability to handle intense competition.
"There's nothing wrong with saying he wasn't good enough at golf and now he's pursuing a different direction," says Cohen. "A person's age is much less important than how he presents himself." Ferneborg says some companies might consider his golf skills an asset if he can take clients out for a round of subtle salesmanship.
Come out of retirement. Bertrand is acting as if he is still retired, spending more hours on the golf course than looking for work. That must stop, says Cohen: Job hunting should be viewed as a full-time job that requires at least 35 hours a week of diligent effort.
He should break the process down into small steps with deadlines, like identifying target companies and which executives to contact, then create spreadsheets to track his progress. One way to keep on task: Form a job search team with other unemployed professionals and commit to deadlines.
The financial plan
Financial adviser Don Lord suggests:
Face up to reality. The Bertrands are in trouble: They have monthly expenses of $8,000 but only $1,700 in income (from Susan's unemployment and Bob's annuity; having worked in Canada most of his career, he'll soon qualify for an additional $800 a month in pension benefits) and $13,000 in the bank. Making matters worse, they have little equity in their house.
What to do? Start by slashing expenses, says Lord. That includes giving up Bertrand's golf membership ($700 a month). Then the couple must find part-time work while they job-hunt. "Right now they're a high-wire act without a net," says Lord.
Start rebuilding. To dig out of this hole, Bertrand will have to work as long as possible, certainly beyond 65 if his health permits. Once he and his wife find jobs, they should save aggressively - at least 20% to 25% of each paycheck.
First, the money should go to replenish liquid savings (they need a minimum of six months of living expenses) and pay down debt. Then they can turn to retirement, maxing out a 401(k) if their employers offer one, and if not, IRAs, supplemented by additional investments in a taxable account.
Update
Bertrand's coaching sessions were a big wake-up call. Now he puts on a shirt and tie in the morning and spends about 28 hours a week job-hunting. He's sprucing up his résumé to emphasize his golf career and creating a list of 50 small to medium-size companies in the area to target.
One thing he hasn't done yet: cancel his golf membership. His rationale? Says Bertrand: "I can really get a lot of networking done there."
The challenge: Downsizing expectations

The challenge: Reversing a career time-out

Send feedback to Money Magazine
Features

These Fortune 100 employers have at least 350 openings each. What are they looking for in a new hire? More

It would be the world's second-biggest economy. See how big companies' sales stack up against GDP over the past decade. More