Electric car grants worth $2.4 billion unveiled
Administration names 48 projects to get funding to develop batteries, parts and programs.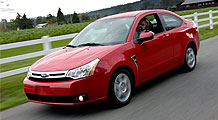 These are the most popular cars purchased under the Cash for Clunkers program.
NEW YORK (CNNMoney.com) -- The federal government on Wednesday named which companies will get $2.4 billion in stimulus grants to develop batteries, parts and programs for electric cars.
The list of recipients -- particularly those involved in making batteries -- is being closely watched by analysts. The race to develop an economic, dependable electric car battery is tight, with many companies using competing technologies in an attempt to capture what could ultimately be a hugely lucrative market. Receiving government funding is seen as at least partial validation their technology is competitive.
"This is really new stuff, but the government has at least vetted their business plan," said Michael Lew, an analyst with Think Equity in New York.
A total of 48 projects received funding. Many of the biggest projects are based in the hard hit Midwest, notably Michigan. The largest recipients include:
Johnson Controls - The U.S. company got almost $300 million for advanced batteries and other parts produced in Holland, Mich., and Lebanon, Ore.
Johnson, which is currently a big producer of regular car batteries, is praised for its manufacturing ability and seen as one of the U.S. companies that could help the country narrow a gap with Asia.
Asian companies are generally regarded as ahead in the advanced battery race, largely due to their experience manufacturing them for consumer electronics like cell phones and laptops.
Johnson has partnered with the French company Saft on lithium-ion technology, an advanced battery for use in plug-in and all-electric cars.
Johnson and Saft together are major suppliers for batteries used in electric vehicles for Mercedes, Ford, and BMW.
Saft won a separate $96 million government grant for a lithium-ion plant in Jacksonville, Fla.
A123 Systems - The small, privately held American firm won $249 million for advanced battery technology manufacturing at sites in Romulus and Brownstown, Mich.
The company previously lost a bid to Korea-based LG to be the primary battery supplier for General Motors' forthcoming Volt electric vehicle -- although the firm is still thought to be assisting with research on the project and may yet supply GM with batteries at a future date.
KD ABG MI, LLC - The joint venture between U.S.-based Dow Chemical (DOW, Fortune 500), Korea's Kokam and some venture capital firms got $161 million for advanced battery manufacturing in Midland, Mich.
LG - Through its subsidiary Compact Power, the Korean company won $151 million for lithium-ion battery production at sites in St. Clair, Pontiac and Holland, Mich. The batteries will be used in GM's Volt, due out late next year.
EnerDel - A subsidiary of Ener1 (HEV), the company received $119 million for lithium-ion battery production in Indianapolis. The company's technology is praised as some of the best in the business, although it has yet to get a big supply contract with a major auto company.
General Motors - The company got $106 million to put together a battery pack for the Volt in Brownstown, Mich. GM (GM, Fortune 500) also received an additional $30 million for a Volt demonstration program.
Chrysler - The automaker got $70 million to develop and deploy electric minivans and pickups.
This round of $2.4 billion in grants announced today is part of the electric vehicle program contained in the stimulus package.
The government also has another $25 billion in grants to develop fuel-efficient vehicles. Earlier this year, Ford (F, Fortune 500), Nissan and the California-based Tesla received a big chunk of that money for electric car research and manufacturing.
Additional grants from that $25 billion are set to be announced later this year.

Are you part of a Detroit-area family with a tradition of working in the automotive industry? Send an email to gmannes@moneymail.com and you could be included in an upcoming Money magazine story.

Features

These Fortune 100 employers have at least 350 openings each. What are they looking for in a new hire? More

It would be the world's second-biggest economy. See how big companies' sales stack up against GDP over the past decade. More