Obama: More uninsured than you think
During weekly address, President Obama cites new Treasury figure that says nearly half of Americans go without health insurance for a month over 10 years.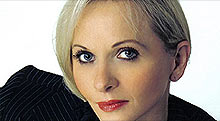 The U.S. health care system is struggling with a shortage of primary care physicians. CNNMoney.com asked readers -- especially those who are medical professionals -- to weigh in on who can help solve the problem. Here are some responses:
WASHINGTON (CNNMoney.com) -- In an effort to cast health care reform as helpful to more Americans, President Obama on Saturday pounded home a new statistic: Nearly 50% of people under 65 have gone without coverage for at least one month over a decade.
"It can happen to anyone," Obama said in his weekly address. "In the United States of America, no one should have to worry that they'll go without health insurance -- not for one year, not for one month, not for one day. And once I sign my health reform plan into law -- they won't."
The new figure comes from a Treasury Department analysis of survey data collected by the University of Michigan. The data tracked health insurance coverage through phone interviews with some 17,000 individuals from 1997 to 2006.
It appears to be the first such analysis of its kind to look at the population of uninsured Americans over a lengthy period of time.
Treasury's analysis also found that roughly two out of five Americans, under 65, go without health insurance for at least six months over a ten-year period. And a little more than one out of three go without insurance for a year over the course of a decade.
"This report is an indictment of the status quo," a senior Treasury official said. "It makes it clear that the status quo is a plan that would allow half of Americans some spell that they'd go without insurance, and a significant percentage of them would go without insurance for over a year."
The report is the latest in a week-long barrage by the White House to turn up the pressure for health care reform. Obama started the recent campaign with a Labor Day speech to AFL-CIO members in Cincinnati, culminating in an address to Congress on Wednesday night.
White House staffers have been meeting with Democrats and Republicans, hammering out concern about different parts of bills. The main goal of the legislation is to get more people covered while reining in health care cost increases.
So far, four main bills are in play. Observers have been waiting for the powerful Senate Finance Committee to release its bill. The panel, headed by Sen. Max Baucus, D-Mont., has been scrambling to get bipartisan consensus.
Baucus told Democratic leaders that he will unveil a bill on Wednesday, congressional aides said on Friday. The committee will start publicly debating the details of the bill in the following week.
The parties remain bitterly divided.
In the Republican weekly address on Saturday, Sen. John Cornyn of Texas said Obama's health care proposals are too costly.
And Rep. John Kline, R-Minn., said Obama should "start from scratch" if he wants a bill passed soon. "There are things we can agree on, and things we can't," Kline said in a conference call with reporters.
Obama heads to Kline's home state on Saturday for a rally in support of health care reform.
CNN's Ted Barrett and Emily Sherman contributed to this report.

Features

These Fortune 100 employers have at least 350 openings each. What are they looking for in a new hire? More

It would be the world's second-biggest economy. See how big companies' sales stack up against GDP over the past decade. More