Dow at new '09 high
A better-than-expected reading on consumer spending and sentiment propels the blue chip average to the highest point in 14 months. But a strong dollar limits gains.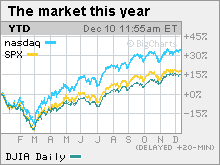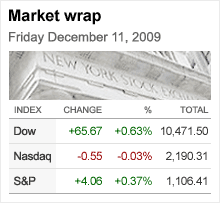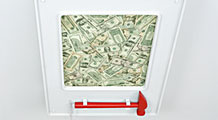 Low interest rates and the recent stock market surge make this a challenging time to find the best places for your extra cash.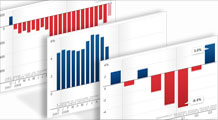 The economy has grown for five straight quarters, but there are signs that the recovery is still fragile.
NEW YORK (CNNMoney.com) -- Better-than-expected reports on retail sales and consumer sentiment lifted big blue chip stocks Friday, but gains were limited by weakness in technology and the strength of the U.S. dollar.
The Dow Jones industrial average (INDU) rose 66 points, or 0.6%, to finish at its highest level of 2009. The S&P 500 index (SPX) gained 4 points, or 0.4%. The Nasdaq composite (COMP) ended little changed. The Dow and the S&P ended the week higher, but the Nasdaq slipped.
Big consumer stocks Coca-Cola (KO, Fortune 500), McDonald's (MCD, Fortune 500) and Walt Disney (DIS, Fortune 500) were among the Dow's gainers. Conglomerates General Electric (GM, Fortune 500) and 3M (MMM, Fortune 500) also gained, reflecting some economic optimism.
"The retail sales look good today and that's helping, but there could be a report next week that doesn't look as good," said Bernard McGinn, CEO at McGinn Investment Management. "People are reading into the market whatever they want to at the moment, because they're basically done for the year."
Trading volume has been light so far this month and trading more volatile as investors close the books early on a tumultuous year. As of Friday's close, the S&P 500 has gained 64% since closing at a 12-year low on March 9.
Stocks jumped across the board Thursday as investors sorted through reports on jobs, housing, net worth and the deficit. But investors worked to sustain that advance Friday amid a deluge of information.
Additionally, the major stock indexes are bumping up against multi-month highs, with the Dow flirting with a fresh 14-month high, as of Friday afternoon, and the S&P 500 and Nasdaq sitting just below those same levels.
Consumer: Better-than-expected reports on retail sales and consumer sentiment helped soothe worries about the economy in the first half of 2010.
Weak consumer spending has threatened to crater a still-burgeoning recovery, particularly once the fiscal and monetary stimulus that has propped up the economy starts to wind down.
Retail sales climbed 1.3% in November, the Commerce Department reported Friday, easily surpassing analysts' forecasts for a rise of 0.7%. Sales rose 1.1% in October.
Sales excluding autos rose 1.2% after showing no change in October. Economists thought sales would rise 0.4%.
The University of Michigan's consumer sentiment index rose to 73.4 from 67.4, versus forecasts for a rise to 68.8.
Market movers: Boeing (BA, Fortune 500), Coca-Cola (KO, Fortune 500), McDonald's (MCD, Fortune 500), United Technologies (UTX, Fortune 500) and Alcoa (AA, Fortune 500) were among the Dow's big winners.
United Technologies rose 2.2% a day after it forecast that profits would rise about 10% in 2010.
Alcoa rose as part of a bullish note on the mining sector from JPMorgan Chase.
Market breadth was positive and volume was light. On the New York Stock Exchange, winners topped losers two to one on volume of 1.02 billion shares. On the Nasdaq, advancers beat decliners three to two on volume of 1.76 billion shares.
World markets: Overseas markets gained. In Europe, London's FTSE 100 rose 0.3%, the German DAX rose 0.8% and France's CAC 40 rose 0.1%. Asian markets rose, with the Japanese Nikkei adding 2.5%.
Dollar: The dollar gained versus the euro and yen, continuing its recent recovery march after having slid for the better part of the year.
The weak dollar has helped stocks rally over the past nine months, giving a boost to dollar-traded commodity shares and the stocks of companies that do business overseas. But over the last two weeks, the dollar has churned or moved higher, cutting into commodity gains and the
Commodities: The stronger U.S. dollar pressured dollar-traded commodity prices, with gold and oil both sliding.
COMEX gold for February delivery fell $6.30 to settle at $1,119.90 an ounce. Gold closed at an all-time high of $1,218.30 an ounce last week.
U.S. light crude oil for January delivery fell 67 cents to settle at $69.87 a barrel on the New York Mercantile Exchange.
Bonds: Treasury prices fell, raising the yield on the 10-year note to 3.55% from 3.5% late Wednesday.
Treasury prices and yields move in opposite directions.

Features

These Fortune 100 employers have at least 350 openings each. What are they looking for in a new hire? More

It would be the world's second-biggest economy. See how big companies' sales stack up against GDP over the past decade. More