Stocks get a beatdown on global concerns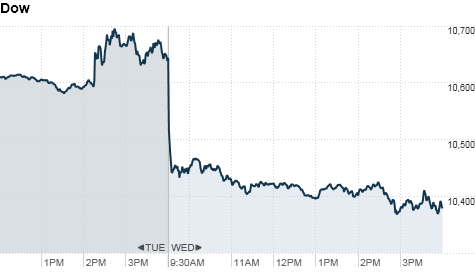 NEW YORK (CNNMoney.com) -- Stocks slid to close sharply lower Wednesday after a report showed the U.S. trade gap widened, and foreign data cast doubt on overseas demand for American goods.
The Dow Jones industrial average (INDU) tumbled 265 points, or 2.5%, to close at 10,378.83. The Nasdaq (COMP) sank 69 points, or 3%, to end at 2,208.63, and the S&P 500 (SPX) fell 32 points, or 2.8%, to close at 1,089.47.
Earlier Wednesday, the government reported the trade deficit widened in June to $49.9 billion, much more than economists had expected.
Ian Shepherdson, economist at High Frequency Economics, called the trade figures "spectacularly terrible."
Meanwhile, the Bank of England lowered its forecast for U.K. economic growth, and said inflation is likely to be below the 2% target in 2012.
A raft of data from China reflected a dour July -- inflation rates missed expectations, industrial production eased to the lowest level this year and retail sales slowed.
The global bad news unnerved investors, with the CBOE volatility index (VIX) -- known as the VIX -- jumping 13% to 25.29.
"We're seeing a reaction to major economic powerhouses showing signs of lower economic activity, and that's raising the fear factor on the global recovery," said Peter Cardillo, chief market economist at Avalon Partners.
Stocks fell Tuesday after the Federal Reserve issued a cautious outlook about the recovery.
World markets: European markets tumbled, with Britain's FTSE 100, France's CAC 40 and Germany's DAX all closing more than 2% lower.
In Asia, Japan's benchmark Nikkei plunged 2.7% after some disappointing manufacturing data. The Hang Seng in Hong Kong fell 0.8%, while the Shanghai Composite rose 0.5%.
Companies: After the closing bell, tech bellwether Cisco (CSCO, Fortune 500) posted a 79% jump in fiscal fourth-quarter profit, but revenue missed expectations.
Cisco earned 43 cents a share, beating the 42 cents per share that analysts polled by Thomson Reuters had forecast.
The network equipment maker said sales rose 27% in the quarter to $10.84 billion. Analysts had estimated revenue of $10.88 billion. Cisco shares fell almost 5.5% in after-hours trading.
A federal judge ordered Wells Fargo (WFC, Fortune 500) to pay more than $200 million in restitution to California customers for manipulating and multiplying overdraft fees. The 90-page ruling said "a bookkeeping device" allowed the bank to multiply the number of fees it could collect from a single mistake.
AIG (AIG, Fortune 500) said it will sell most of its consumer finance unit to investment manager Fortress (FIG). Further terms weren't disclosed, but it should allow AIG to raise cash as it seeks to pay down its obligations to taxpayers stemming from its 2008 bailout. AIG shares dropped to close 5.9% lower.
Shares of Macy's (M, Fortune 500) rallied to close almost 6% higher Wednesday after the department store chain posted a quarterly profit that beat estimates and boosted its earnings forecast for the year.
Toyota (TM) said an investigation has so far found no problems with its cars beyond those the company has already recalled. Researchers for the National Highway Traffic Safety Administration looked into 58 crashes of Toyota cars and have not found any further safety defects but shares ended 2.8% lower.
Economy: The National Association of Realtors released a report showing the median price of a single-family home in the second quarter rose 1.5% over the year to $176,900.
According to the Office of Management and Budget, the nation had a $165.04 billion budget deficit in July. Economists surveyed by Briefing.com expected the Treasury budget to have a $180.7 billion deficit.
Currencies and commodities: The dollar gained against the euro and U.K. pound, but touched a 15-year low versus the Japanese yen.
Oil futures for September delivery fell $1.76 to settle at $78.49 a barrel.
Bonds: Prices for Treasurys were higher, moving the corresponding yields lower. The yield on the 10-year note fell to 2.7% from 2.77% late Tuesday. Investors submitted bids of almost $73 billion for the government's sale of $24 billion worth of 10-year notes.