Stocks slump on slowdown fears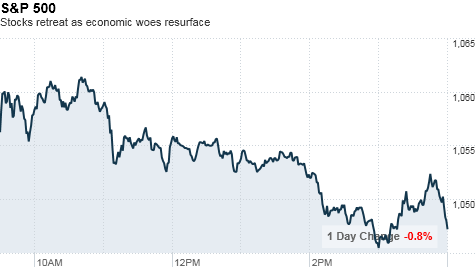 NEW YORK (CNNMoney.com) -- Stocks slipped Thursday, erasing earlier gains as worries about a sputtering economy overshadowed a better-than-expected report on jobless claims.
The Dow Jones industrial average (INDU) lost 74 points, or 0.7%, the Nasdaq (COMP) composite fell 23 points, or 1%, and the S&P 500 (SPX) ticked down 8 points, or 0.8%.
An earlier bounce lost steam as investors turned their focus to the economy, bracing for the latest reading on second-quarter gross domestic product due early Friday. GDP, the broadest gauge of economic activity, is expected to show the economy grew much less than previously estimated.
"When things are as bad as they are, any news like [today's] jobs data showing a slight improvement helps," said Gary Webb, CEO at Webb Financial Group. "But we're still in a mess, and I think it's going to continue to be a rocky road for the market until we see some gradual momentum."
The three major indexes finished higher Wednesday after spending most of the session in the red following an unexpected plunge in new home sales.
Economic gloom continued to hang over investors Thursday, with losers outnumbering winners by nearly two-to-one on both the New York Stock Exchange and the Nasdaq. Declines were broad based, with big names like Intel (INTC, Fortune 500) losing more than 1%, while winners included Boeing (BA, Fortune 500) and First Solar (FSLR).
Economy: The Labor Department said the number of people filing for first-time unemployment insurance eased to 473,000 last week, which was lower than forecast.
But the weekly jobless claims report wasn't enough to calm jittery investors, especially with a closely-watched GDP reading on tap Friday. Economists expect the government to revise second-quarter GDP to 1.4%, a significant slowdown from the previous reading of 2.4%.
"We're pretty much just waiting for the GDP number at this point, and everybody is anticipating a poor number," said Ron Kiddoo, CIO at Cozad Asset Management. "If it comes in as expected, we may not see much movement since we seem to already be pricing that in, but if you have a number below 1%, the market could get really ugly."
Companies: PC-maker Dell (DELL, Fortune 500) said data-storage company 3PAR has accepted its $1.6 billion takeover bid, sending shares of 3PAR (PAR) down nearly 3% in regular trading. But after the market close, rival HP said it has sweetened its bid, topping Dell's earlier offer.
Shares of Toyota (TOYOF) fell more than 1% after the automaker said it will recall more than 1 million Corolla and Corolla Matrix vehicles due to engine problems.
The Federal Aviation Administration proposed a $24 million fine against American Airlines. The airline said it will challenge the civil penalty, which would be the largest fine in FAA's history. Shares of AMR Corp. (AMR, Fortune 500), which owns American Airlines, fell nearly 1%.
World markets: European shares rallied. The CAC 40 in France ended 0.7% higher, Britain's FTSE 100 climbed 0.9% and the DAX in Germany added 0.2%.
Asian markets ended mixed. Japan's benchmark Nikkei index increased 0.7%, and the Shanghai Composite edged up 0.3%. The Hang Seng in Hong Kong lost 0.1%.
Currencies and commodities: The dollar fell against the euro, the British pound and the Japanese yen.
Oil futures for October delivery rose 84 cents to settle at $73.36 a barrel. Gold for December delivery fell $3.60, settling at $1,237.70 an ounce.
Bonds: The yield on the 10-year Treasury note slipped to 2.50% from 2.54% late Wednesday.
Are you under the age of 35 and pulling your money out of the stock market? What's your investing strategy amid the current economic uncertainty? Are you still willing to take on more risk? E-mail your story to Hibah.Yousuf@turner.com and you could be part of an upcoming feature. For the CNNMoney.com Comment Policy, click here.