Stocks eke out gains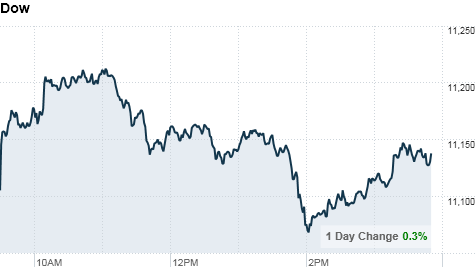 NEW YORK (CNNMoney.com) -- U.S. stocks ended a shade higher Thursday after seesawing throughout the session, as investors balanced strong earnings with building speculation that the Fed's next round of asset-buying won't be as dramatic as anticipated.
The Dow Jones industrial average (INDU) rose 39 points, or 0.35%, the S&P 500 ticked (SPX) up 2 points, or 0.2%, and the Nasdaq (COMP) edged up 2 points, or 0.1%.
Stocks have been on a roller coaster this week -- starting with gains on Monday, diving to 2-month lows on Tuesday, and ending sharply higher Wednesday. Investors have been taking in mixed earnings results, and waiting for clues about the next round of asset purchases from the Federal Reserve.
There has been growing speculation over the past month that the Fed will launch more quantitative easing. The move -- known as QE2 -- would mark the second round of large-scale asset purchases of U.S. Treasuries by the Fed, as part of its effort to get the economy moving.
But comments from U.S. Treasury Secretary Timothy Geithner on Thursday suggested that the Fed's action won't be as large as expected, sending the dollar higher and taking steam out of the stock market's early rally.
"Geithner hinting that the dollar isn't as weak as we thought is making people start to think quantitative easing is going to be smaller than expected," said Dave Rovelli, managing director of U.S. equity trading at Canaccord Adams. "Markets have been banking on a huge printing of money, so if it's smaller, that's good for the dollar but bad for stocks."
China's growth cools: Helping to spur the market's early run-up, government figures released Thursday showed China's economic growth slowed for the second quarter in a row, easing fears that its economy is growing at an unsustainable pace.
"The report on China's growth was kind of like the story of the three little bears -- [the porridge] wasn't too hot, it wasn't too cold, it was just right," said Tom Schrader, managing director at Stifel Nicolaus.
China's gross domestic product, the broadest measure of economic output, grew at an annual rate of 9.6% during the third quarter of 2010.
While that number was still higher than many analysts expected, investors welcomed the report as a sign that China's economy will continue to lead the world recovery.
"If it was too weak it would have scared everyone that their economy is weakening," Schrader said.
Economy: The government's weekly jobless claims report showed that the number of Americans filing for first-time unemployment insurance was lower than expected, with 452,000 claims filed in the week ended Oct. 16.
A consensus of economists surveyed by Briefing.com had expected 455,000 jobless claims.
The Conference Board's Leading Economic Indicators rose 0.3% in September -- in line with expectations, and up from a downwardly revised 0.1% increase in August.
The Philadelphia Fed index, a regional reading on manufacturing, rose to 1 in October, from a negative 0.7 in September. While a step in the right direction, economists were expecting a slightly higher reading of 1.4.
"The economic data is not so strong that it will eliminate the possibility of QE2, but it lessens the chances," Schrader said. "And markets would definitely prefer not to see the necessity of QE2."
Companies: Traders also welcomed a slew of upbeat earnings reports Thursday.
After the market close, Amazon (AMZN, Fortune 500) posted a 39% jump in sales and third-quarter earnings per share of 51 cents, topping the 48 cents expected by analysts.
Before the opening bell,McDonald's Corp (MCD, Fortune 500). logged a 10% jump in third-quarter profit -- beating expectations and sending the fast-food chain's stock up 2.6% to a record high of $79.48 per share in early trading.
Nokia (NOK) beat estimates when it announced a third-quarter profit of $737.9 million, compared with a $783 million loss a year earlier. But the mobile phone maker also said it will cut as many as 1,800 jobs as it streamlines its operations. Shares of Nokia rose 4%.
UPS (UPS, Fortune 500) and Caterpillar (CAT, Fortune 500) also both beat forecasts on income and revenue. AT&T (T, Fortune 500) beat estimates on revenue, but its profit was skewed by a $8.3 billion gain related to its acquisition of Cingular Wireless in 2006.
Netflix (NFLX) shares surged 13%, after it posted stronger-than-expected earnings after the closing bell Wednesday.
EBay (EBAY, Fortune 500) reported better-than-expected earnings results after the market close Wednesday, sending shares of the company up 6% Thursday.
World markets: Asian markets finished mixed. Japan's benchmark Nikkei was a few points lower, while the Hang Seng in Hong Kong rose 0.4%. Shares in Shanghai eased 0.7%.
European markets posted strong gains. The DAX in Germany and the CAC 40 in France both surged 1.3%, while Britain's FTSE 100 jumped 0.5%.
Commodities and Currencies: The dollar climbed against the euro, the Japanese yen, and the British pound.
Oil prices for December delivery slipped $1.98 to settle at $80.56 a barrel.
Gold futures for December delivery dropped $18.60 to $1,325.60 an ounce.
Meanwhile, coffee futures settled more than 2% higher after soaring to the highest level in 13 years amid supply crunch concerns.
Bonds: The price on the benchmark 10-year U.S. Treasury fell, boosting the yield to 2.55%.