Stocks step down as gold steps up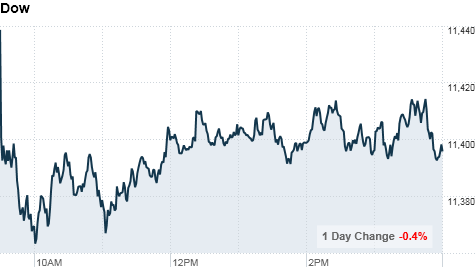 NEW YORK (CNNMoney.com) -- Stocks ended lower Monday, as investors took a step back from last week's run-up and shifted their focus to the global economic picture.
The Dow Jones industrial average (INDU) lost 38 points, or 0.3%, to end at 11,406.84. The S&P 500 (SPX) dropped 3 points, or 0.2%, to close at 1,223.25, and the Nasdaq (COMP) added 1 point to end at 2,580.05.
Instead, investors turned to commodities. Gold surged to a new record high, settling at a record $1,403.20 an ounce, as jittery investors continue to see it as a hedge against inflation.
"After last week's historic events, today is all new territory," said Adam Harter, chief strategist at Financial Enhancement Group. "We have nothing in history to compare last week to, so it's a lot for investors to digest."
Stocks rallied last week on two major pieces of news. Tuesday's midterm elections saw the Republican party win control of the House. On Wednesday, the Federal Reserve said it will buy $600 billion in U.S. Treasuries by the middle of next year to stimulate the economy.
"There's an old saying on Wall Street: 'Don't fight the Fed,'" Harter said. "They want assets to go up, and stocks are going to benefit from that in the short- to medium-term period."
After a busy week of domestic news, this week will turn investors' attention overseas. On Thursday, leaders of the world's major economies -- including President Obama -- will start a two-day summit in South Korea. The Group of 20 is expected to discuss recent currency tensions and other global economic challenges.
Stocks ended slightly higher Friday, but it was enough for all three major indexes to close at fresh two-year highs. Both the Dow and S&P also logged their biggest weekly gains in more than two months.
Economy: After the opening bell, a report from Federal Reserve Bank of New York said total consumer debt was $11.6 trillion at the end of September. That's down 7.4%, or $922 billion, from the peak reached in the third quarter of 2008.
Companies: Before the bell, Sysco (SYY, Fortune 500) reported earnings per share of 51 cents -- meeting the expectations of analysts surveyed by Thomson Reuters. But net earnings for the quarter dropped 8.3% over the year, and shares ended down 2.7% Monday.
AOL (AOL) has hired financial advisers to explore the possibility of a merger with rival Yahoo (YHOO, Fortune 500), the Wall Street Journal reported Monday.
Meanwhile, the Wall Street Journal also reported that the Securities and Exchange Commission has subpoenaed a number of former Citigroup (C, Fortune 500) brokers, who contend the bank misled investors on risky bond funds.
Shares of JDS Uniphase (JDSU) ended 4.8% higher after the company reported results for its fiscal first quarter after the close of trade Thursday. The telecom's revenue was was $405.2 million, which came in below estimates but was still a 36.3% growth over the year.
Warner Chilcott (WCRX) shares closed almost 14% lower after the drugmaker reported third-quarter earnings that missed estimates and lowered its revenue forecast for the full fiscal year.
World markets: European stocks lost their earlier gains and ended lower. Britain's FTSE 100 dropped 0.4%, while the DAX in Germany and France's CAC 40 ended down less than 0.1%.
Asian markets ended higher. The Shanghai Composite gained 1%, the Hang Seng in Hong Kong rose 0.4% and Japan's Nikkei ticked up 0.7%.
Currencies and commodities: The dollar strengthened against the euro and British pound, but it fell against the Japanese yen.
Oil for December delivery rose 36 cents to settle at $86.85 a barrel.
Gold broke through the $1,400 ceiling, settling at a record high of $1403.20 an ounce. Earlier in the session, it hit an intraday record at $1,408.70 an ounce.
Cotton futures hit an all-time high Monday morning, after news reports said China's cotton harvest may fall 5% this year due to natural disasters in major production areas.
Bonds: The price on the benchmark 10-year U.S. Treasury ticked down slightly, pushing the yield up to 2.56% from 2.54% late Friday.