Stocks plunge: Worst day in months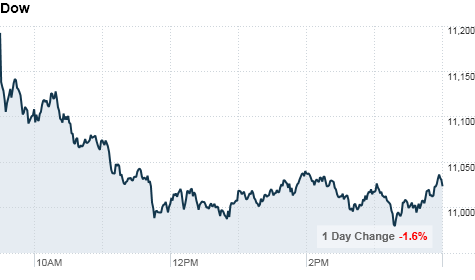 NEW YORK (CNNMoney.com) -- U.S. stocks tumbled Tuesday, with all three major indexes down nearly 2%, as investors cast a worried eye at economic developments in Europe and China.
The Dow Jones industrial average (INDU) finished 178 points lower, or 1.6%, with Alcoa (AA, Fortune 500) and Travelers Companies (TRV, Fortune 500) leading the blue chip index's decline. Earlier in the session, the Dow fell more than 200 points.
The S&P 500 (SPX) fell 19 points, or 1.6%. The tech-heavy Nasdaq (COMP) lost 44 points, or 1.8%.
The Dow and the S&P posted the biggest one-day losses since Aug. 11 and Aug. 19, respectively. The Nasdaq's drop was the largest since Oct. 19.
The day's sell-off also puts all three indexes on track to post a decline for the month of November, erasing the gains logged after the Republican victory in the midterm elections and the Federal Reserve's announcement to pump $600 billion in to the economy.
Traders on Wall Street have been holding back on buying recently, as they await more clarity on the economic outlook for the United States, Europe and China.
As a result, investors have been taking their cues from daily economic indicators, and have been keeping a close eye on debt auctions in fiscally challenged countries such as Ireland.
"The concerns about the global economy, with the fiscal situation in Ireland, are clearly back on the table," said Peter Tuz, president at Chase Investment Counsel. "There's a little bit of nervousness out there."
Irish prime minister Brian Cowen outlined in a speech on Tuesday the steps that his government has been taking to stabilize the Irish economy and reduce the deficit. Most importantly, as far as investors are concerned, he said that his country will not be seeking a bailout.
"Ireland has made no application for external support," he said.
Investors had braced themselves for news of an Irish bailout and its potential threat to economic stability.
The persisting global economic woes have helped lift the dollar. The dollar index, which measures the buck against a basket of foreign currencies, rallied 0.9%. Earlier, the index touched 79.46, the highest level since Sept. 28.
The stronger buck weighed on commodity prices and the energy sector, Tuz said.
Exxon Mobil (XOM, Fortune 500) fell more than 2% Tuesday and was among the biggest losers in the Dow. Massey Energy Company (MEE), Peabody Energy (BTU, Fortune 500) and Valero Energy Corp. (VLO, Fortune 500) all shed about 3%, while Consol Energy (CNX, Fortune 500) dropped almost 5%. They were among the biggest laggards on the S&P 500.
The companies also lost traction as investors worried that China's efforts to curb the nation's growth would add stiff pressure on energy prices and future earnings, Tuz said.
Meanwhile, retail stocks moved higher after major players posted healthy profits and strong forecasts for the fourth quarter, which includes the all-important holiday shopping period, with Wal-Mart (WMT, Fortune 500), Home Depot (HD, Fortune 500) and Urban Outfitters (URBN) leading the advance.
Stocks ended mixed Monday, after an early advance on merger news gave way to jitters about the economy.
Companies: Wal-Mart (WMT, Fortune 500), the world's largest retailer, reported earnings per share of 95 cents. Excluding charges, Wal-Mart met forecasts. But the retailer missed on sales, reporting net sales of $101.2 billion versus forecasts of $102.3 billion. Wal-Mart also hiked its outlook for the year. Shares rose about 0.6%.
Home Depot (HD, Fortune 500) reported third-quarter earnings of 51 cents per share, topping forecasts by three cents. But the home improvement company lowered its full-year sales outlook. Shares of Home Depot jumped 1%.
General Motors announced an increase in the target price and size of its initial public offering. The target share price for common stock moved to $32 to $33 from its previous estimate of between $26 and $29 per share. As a result, the total size of GM's IPO is now expected to be close to $16 billion.
Clothing retailer Abercrombie & Fitch (ANF) announced third-quarter earnings per share of 56 cents, topping analyst expectations by 5 cents per share. Shares rose 0.8%.
Economy: A government report on the latest Producer Price Index was delivered before the bell. The report is considered an important reading on the price of goods at the wholesale level. A report on industrial production is also expected Tuesday.
Producer prices rose 0.4% in October, matching the growth rate for the previous two months, but falling short of analyst expectations. The measure had been forecast to have risen 0.8% for October, according to a consensus of economists surveyed by Briefing.com.
Excluding energy prices, the so-called core PPI decreased by 0.6%. It had been expected to be flat at 0.1%.
Economists expect industrial production rose 0.3% in October, after a 0.2% decline in output the month before, according to the consensus estimate from Briefing.com.
World markets: European stocks fell after a report showed consumer prices in the eurozone rose at their fastest pace in two years, hiking inflation fears. Britain's FTSE 100 ended 2.4% lower, the DAX in Germany lost 1.9% and France's CAC 40 declined by 2.6%.
Asian markets ended lower. The Shanghai Composite suffered heavy losses, closing down nearly 4% on continued inflation worries. The Hang Seng in Hong Kong edged 1.4% lower, and Japan's Nikkei slid 0.3%.
Currencies and commodities: The dollar strengthened against the euro, British pound, and the Japanese yen.
The dollar index, which measures the buck against a basket of foreign currencies, rose 0.9%. The stronger dollar has weakened commodity prices.
Oil for December delivery fell $2.52, or 3%, to $82.34 a barrel. Gold futures for December delivery fell $28.50 to $1,340 an ounce.
Bonds: The price on the benchmark 10-year U.S. Treasury rose, pushing the yield down to 2.84% from 2.91% late Friday.

CNNMoney.com staff writer Aaron Smith contributed to this report.