Bank worries drag down stocks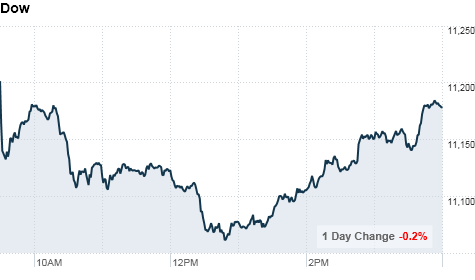 NEW YORK (CNNMoney.com) -- Bank stocks took a beating Monday after reports of a Wall Street insider trading probe, holding stocks back despite news of Ireland's bailout.
The Dow Jones industrial average (INDU) slipped 25 points, or 0.2%, to end at 11,178.58. The index was down as much as 149 points earlier. The S&P 500 (SPX) lost 2 points, or 0.2%, to close at 1,197.84. The Nasdaq (COMP) added 14 points, or 0.6%, to end at 2,532.02.
The declines were broad-based, with 22 of 30 Dow components ending in the red. Bank of America (BAC, Fortune 500) was the Dow's biggest loser, dropping 3.1%. Other bank shares -- including Citigroup (C, Fortune 500), JPMorgan (JPM, Fortune 500) and Wells Fargo (WFC, Fortune 500) -- also ended sharply lower.
Goldman Sachs (GS, Fortune 500) was the S&P 500's laggard, with shares tumbling 3.4% following a weekend report that investigators are looking at possible insider trading allegations tied to the firm's dealings in transactions including a health-care merger.
Separately, reports said federal investigators raided the offices of several hedge funds Monday as part of a wide insider-trading probe.
Trading could be choppy this week, with many market participants taking time off ahead of the Thanksgiving holiday. Trading volume was on the light side Monday, but still within normal range. Below average trading volume can contribute to volatility. All U.S. markets will be closed Thursday.
Investors were in "a holding pattern" Monday with no economic news on tap, said Alan Lancz, president of Alan B. Lancz & Associates. But the rest of the week brings a full plate of economic indicators: a revised reading on U.S. economic growth, housing data and durable goods orders, as well as personal income and spending figures.
Eyes on the Emerald Isle: On Sunday, Irish Prime Minister Brian Cowen formally requested substantial financial assistance from the European Union and the International Monetary Fund. The group is now working to hammer out final details of a rescue package worth tens of billions of dollars.
"In the morning, it looked like a rally on thoughts that Ireland will be in better shape now," Lancz said. "But we really don't have a catalyst on the upside during this short week."
Stocks eked out gains Friday, ending a volatile week with a whimper. The volatility was driven by nervousness over China's efforts to temper bank lending and the potential bailout for Ireland.
World markets: European stocks ended lower. Britain's FTSE 100 dropped 0.9%, the DAX in Germany lost 0.3% and France's CAC 40 fell 1.1%.
Asian markets finished mixed. The Shanghai Composite fell 0.2% and the Hang Seng in Hong Kong lost 0.4%, while the Japan's Nikkei gained 0.9%. China's economic planning body said Monday it would work to keep domestic prices stable. To achieve that goal, they'll increase subsidies for the low-income bracket in accordance with price hikes.
Companies: Netflix (NFLX) shares jumped to end 8.8% higher after the company announced a streaming-only video service for $7.99 a month. The streaming plus DVD rental service price will increase to $9.99 a month.
Green Mountain Coffee (GMCR) announced late Friday that it will restate earnings for the last three fiscal years and the first three quarters of the current fiscal year, because of accounting errors. Shares surged more than 18% Monday after the company said those issues had been resolved.
Novell (NOVL) shares closed 6.6% higher after the software maker said it had agreed to be bought by Attachmate for $2.2 billion.
After the close of trade, Dow component Hewlett-Packard (HPQ, Fortune 500) posted fiscal fourth-quarter earnings of $1.33 per share. Sales rose 8% to $33.3 billion, topping analysts' forecasts of $32.8 billion. Shares rose 1% in after-hours trade.
Currencies and commodities: The dollar weakened against the euro, the Japanese yen and the British pound.
Oil for January delivery fell 24 cents, or 0.3%, to settle at $81.74 a barrel.
Gold futures for December delivery turned around from earlier losses and added $5.50 to settle at $1,361.70 an ounce.
Bonds: The price on the benchmark 10-year U.S. Treasury rose, pushing the yield down to 2.81% from 2.88% late Friday.