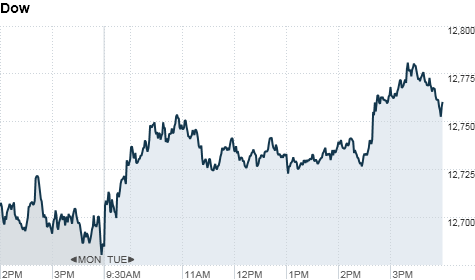 Click the chart for more market data.
NEW YORK (CNNMoney) -- U.S. stocks rose for third straight day on Tuesday, as investors were bolstered by Microsoft's $8.5 billion deal to buy Skype, along with solid corporate earnings reports and economic data.
"There are just a lot of strong numbers, from earnings to economic data, that keep pushing this market higher," said Frank Davis, director of sales and trading at LEK Securities.
The Dow Jones industrial average (INDU) rose 76 points, or 0.6%, to close at 12,761; the S&P 500 (SPX) gained 11 points, or 0.8%, to 1,357; and the tech-heavy Nasdaq Composite (COMP) added 29 points, or 1%, to close at 2,872.
Shares of Intel (INTC, Fortune 500), Hewlett-Packard (HPQ, Fortune 500) and Cisco (CSCO, Fortune 500) were among the Dow's top performers, all rising by more than 1%, while Microsoft (MSFT, Fortune 500) was the biggest drag on the blue-chip index, falling 0.5%.
Leading the Dow was media giant Disney (DIS, Fortune 500), shares of which rose more than 2% before the company's quarterly results. After the bell, Disney reported earnings of 49 cents per share, missing analyst forecasts for 57 cents a share. Disney stock fell 3% in aftermarket trading.
Investors also focused on U.S. import-export data, wholesale inventories and quarterly home prices, as well as the strong Chinese trade report.
Early Tuesday, the Chinese government said China's trade surplus surged to $11.43 billion in April, growing for the second month in a row.
While stocks continue to move higher, there are signs that Wall Street is becoming more defensive. Utilities were among Tuesday's top performers, with companies such as ConEd (ED, Fortune 500), Pacific Gas & Electric (PGE) and American Electric Power (AEP, Fortune 500) all up at least 1%. Healthcare stocks, another defensive sector, were also doing well.
"When you see those sectors outperforming the broader market, that's a signal that investors are getting more cautious," said Quincy Krosby, chief market strategist with Prudential Financial. "I think we're beginning a topping-out process for stocks, unless the economic data like jobless claims starts to improve."
U.S. stocks rose Monday, as commodity prices bounced back. But the gains were tempered by worries about the fiscal crisis in Greece.
Economy: U.S. home prices continued their sharp drop during the first three months of the year, according to a report by the National Association of Realtors. The average price on a single family home in the U.S. now stands at $158,700, down 4.6% from a year ago.
The price of imports into the United States increased 2.2% in April, while exports only advanced 1.1%, according to a report released by the Labor Department.
The Commerce Department said wholesale inventories rose 1.1% in March, which was in line with forecasts.
Companies: Cisco shares rose 1% ahead of its quarterly results on Wednesday after the closing bell. Analysts are looking for the telecommunications and router company to earn 37 cents a share.
Shares of eBay (EBAY, Fortune 500), which owns a 35% stake in Skype, rose 2.5% in midday trading.
Dean Foods (DF, Fortune 500)' stock surged 11%, after the dairy company easily trounced earnings expectations and raised its outlook, citing improving demand.
Shares of Intercontinental Hotels (IHG), which owns Holiday Inn, rose 4% after the company reported a 30% jump in profit.
Google (GOOG, Fortune 500) unveiled its cloud-based music service on Tuesday, which will allow users to upload music for later streaming.
World markets: European stocks ended solidly higher. Britain's FTSE 100 rose 1.3%, the DAX in Germany advanced 1.3% and France's CAC 40 ticked higher 1.1%.
Asian markets finished higher. The Shanghai Composite edged up 0.6% and Japan's Nikkei rose 0.3%. Hong Kong's stock market was closed for a holiday.
Currencies and commodities: The dollar rallied against the euro, the Japanese yen and the British pound.
Oil for June delivery rose $1.13, or 1.1%, to $103.63 a barrel.
Gold futures for June delivery rose $15, or 2.2%, to $1,518 an ounce.
Silver futures for July delivery gained $1.50, or 4%, to $38.66 an ounce.
Bonds: The price on the benchmark 10-year U.S. Treasury edged lower, with the yield rising to 3.17%.