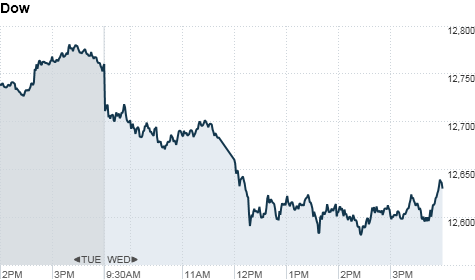 Click the chart for more market data.
NEW YORK (CNNMoney) -- Stocks fell sharply Wednesday, as energy and materials stocks were particularly hard hit by a sell-off in oil and gasoline futures.
"Commodities are getting crushed here, and it's taking the whole market with it," said David Rovelli, managing director of U.S. equity trading at Canaccord Adams.
The Dow Jones industrial average (INDU) slid 130 points, or 1%, to end at 12,630. The blue-chip index had been down as much as 179 points. The S&P 500 (SPX) fell 15 points, or 1.1%, to 1,342; and the Nasdaq Composite (COMP) shed 27 points, or 0.9%, to end at 2,845.
Shares of Chevron (CVX, Fortune 500) and Exxon Mobil (XOM, Fortune 500) were among the biggest laggards on the Dow as oil plunged nearly 6% to $100 a barrel. Gasoline futures also got hammered, tumbling 8% to $3.11 a gallon.
The selling intensified after the Energy Department's weekly inventory report showed a surprise build in gasoline supplies.
The drop in energy prices also drove down shares of energy firms Halliburton (HAL, Fortune 500), Cabot Oil (COG) and Tesoro (TSO, Fortune 500), among others.
Precious metals were also selling off, with silver sinking $3.26, or 8.5%, to $32.22 an ounce. And gold fell $13.40, or 0.9%, to $1,503.50 an ounce.
Copper was also getting caught up in the selling mayhem, with prices sinking 3.5%. That spilled over to miner stocks, including Freeport McMoRan (FCX, Fortune 500) and Teck Resources (TCK).
Traders also pointed to weakness in the euro as part of the reason commodities were under pressure. The dollar gained strength amid growing concerns about Greece's debt problems.
"We're now looking at a strong likelihood that Greece will need to default in some form," said Brian Dolan, Forex.com's chief currency strategist.
One of the lone bright spots was Intel (INTC, Fortune 500), whose shares rose 1.7% after the chipmaker hiked its quarterly dividend to 21 cents a share.
Investors moved into defensive sectors such as consumer staples, utilities and health care stocks. Both utilities and health care have been particularly strong performers as of late, a sign that investors are becoming increasingly hesitant.
"It's time to be a little bit cautious," said Russell Lundeberg, chief investment officer with Barrett Capital Management. "These volatile swings show that fundamentals are not moving this market any more, so you have to be sure you're being paid for any amount of risk you're willing to take on at this point."
Wednesday's drop came after U.S. stocks rose Tuesday, thanks to investors encouraged by Microsoft's $8.5 billion deal to buy Skype, along with solid corporate earnings reports and economic data.
Companies: Shares of Dow component Walt Disney (DIS, Fortune 500) fell more than 5% after the company reported earnings that fell far short of forecasts.
Yahoo! (YHOO, Fortune 500) shares slid more than 7%, making it the worst performer in the S&P 500, on investor concerns about the value of its China-based assets.
Automaker Toyota (TM) said Wednesday that net income almost doubled and sales increased 0.2% for the fiscal year ended March 31. But the earthquake that hit Japan earlier this year cost the company about ¥100 billion. Toyota shares rose 0.5%.
Also, insurer AIG (AIG, Fortune 500) and the Treasury decided to move ahead with a $9 billion stock offering, despite the recent low price of the stock. Shares of AIG rose 3.6%.
Department store chain Macy's (M, Fortune 500) posted a profit of 30 cents a share, well above the 17 cents analysts were looking for. The company also announced it was doubling its quarterly dividend to 10 cents per share. Macy's shares jumped 8%, making it the best performer on the S&P 500.
Dow component Cisco Systems (CSCO, Fortune 500) reported earnings of 42 cents a share, beating analysts' estimates of 37 cents. CSCO rose 4% in aftermarket action.
Economy: The U.S. trade deficit widened to $48.2 billion in March, the Commerce Department said Wednesday. Economists were expecting a $47.7 billion trade deficit.
In Asia, China's food price surge slowed, helping to ease overall inflation in April. China's consumer price index rose at an annual rate of 5.3%, down from 5.4% growth in March.
Currencies and bonds: The dollar rose more than 1% against the euro but remained weak against the British pound and the Japanese yen.
Meanwhile, the price on the benchmark 10-year U.S. Treasury rose modestly, with the yield falling to 3.16%.
World markets: European stocks closed mixed. Britain's FTSE 100 fell 0.7%, the DAX in Germany lost 0.1% and France's CAC 40 added 0.1%.
Asian markets ended mixed. The Shanghai Composite lost 0.3%, the Hang Seng in Hong Kong shaved 0.2% and Japan's Nikkei rose 0.5%.