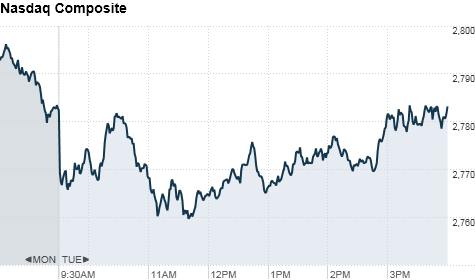 Click the chart for more market data.
NEW YORK (CNNMoney) -- Stocks closed mixed on Tuesday as investors digested a weak outlook from Hewlett-Packard, a grim read on the housing market and an unexpected drop in April industrial production.
Despite those negative factors, stocks ended the session well off the lows set earlier in the day.
The Dow Jones industrial average (INDU) lost 69 points, or 0.6%, to close at 12,780. The Dow was down more than 150 points earlier in the day.
The blue chips were dragged lower by a 7% drop in shares of Hewlett-Packard (HPQ, Fortune 500). The PC maker reported a 3% increase in sales but warned the current quarter will be hurt by the Japanese quake impact and weak PC sales.
The broader market indexes closed relatively flat, with the Nasdaq Composite (COMP) rising 1 points, or less than 0.1%, to 2,783; and the S&P 500 (SPX) falling less than a point to end at 1,329.
The negative HP news as well as two disappointing economic reports kept investors on edge.
On Tuesday, the Commerce Department said housing starts plunged a worse-than-expected 10.6% in April, while the Federal Reserve said industrial production was flat in April due in part to the Japanese earthquake. Economists were looking for a gain in the industrial production figures.
"There's a lot of negative sentiment in the market at the moment," said Stephen Carl, head trader with Williams Capital.
Shares of raw materials and construction companies were also dragged lower, with Caterpillar (CAT, Fortune 500) shares falling 4% and Cummins (CMI, Fortune 500) and Alcoa (AA, Fortune 500) shares falling 3%.
Financial shares were among Tuesday's top performers, led by JPMorgan Chase (JPM, Fortune 500), Wells Fargo (WFC, Fortune 500), Capital One Financial (COF, Fortune 500) and USBancorp (USB, Fortune 500).
After stocks and commodities hit multi-year highs last month, trading has been volatile the past two weeks. Commodities such as oil and silver have fallen sharply while stock investors wait for the conclusion of the Federal Reserve's bond-buying program at the end of June. The Dow is down more than 2.5% so far this month.
"The market is not turning actively defensive, but we may be close to a market top because people don't want to go into this market with the end of quantitative easing," said Bruce McCain, chief investment strategist at Key Private Bank.
The major indexes are on track for the fourth day of declines in five sessions.
U.S. stocks ended lower Monday as investors focused on oil prices and the debt crisis in Europe.
Companies: Dell (DELL, Fortune 500) shares jumped 4% in aftermarket action after the company reported an adjusted profit of 49 cents a share. Dell's earnings came in well ahead of analysts' estimates, who were looking for 44 cents a share.
Dow component Wal-Mart Stores (WMT, Fortune 500) reported quarterly income of $3.4 billion and sales of $103 billion compared with last year, topping analysts' estimates. However shares of Wal-Mart were down 1%.
Home Depot (HD, Fortune 500) beat forecasts with earnings per share of 50 cents as sales edged lower to $16.8 billion. The profit helped Home Depot shares rise 1%, making it one of the Dow's best performers.
Results from Dell (DELL, Fortune 500) are due after the closing bell. The company is expected to earn 43 cents per share.
Currencies and commodities: The dollar fell against the euro and the British pound but rose 1% against the Japanese yen.
Oil for June delivery slipped 46 cents, or 0.5%, to settle at $96.91 a barrel.
Gold futures for June delivery fell $8.10, or 0.5%, to $1,482.50 an ounce.
Bonds: The price on the benchmark 10-year U.S. Treasury ticked higher, pushing the yield down to 3.14% from 3.15% late Monday.
World markets: European stocks closed as investors digested a 4.5% rise in U.K.'s inflation rise, much more than expected.
Britain's FTSE 100 fell 1.1%, the DAX in Germany slid 1.8% and France's CAC 40 fell 1.2%.
Asian markets ended mixed after trading in a narrow range. The Shanghai Composite gained 0.1%, the Hang Seng in Hong Kong slipped 0.3%, and Japan's Nikkei was unchanged.