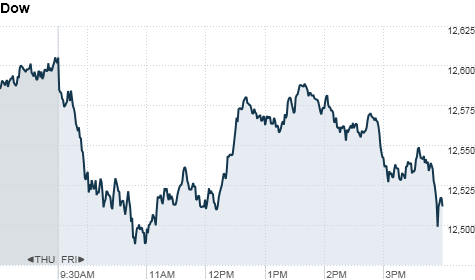 Click chart for more market data.
NEW YORK (CNNMoney) -- U.S. stocks finished lower Friday, amid weak outlooks from retailers and as the dollar rallied on Greek debt jitters.
The Dow Jones industrial average (INDU) dropped 93 points, or 0.7%. Earlier in the session, the blue-chip index slumped more than 100 points. The S&P 500 (SPX) shed 10 points, or 0.8%, and the Nasdaq Composite (COMP) lost 20 points, or 0.7%.
Gap (GPS, Fortune 500) shares tumbled 17.5% while Aeropostale (ARO)'s stock fell 14% after both companies lowered their full-year guidance, citing weaker demand and higher commodity costs. Gap shares were the worst performer on the S&P 500.
Other retailers followed suit, with shares of Macy's (M, Fortune 500), Urban Outfitters (URBN) and Abercrombie & Fitch (ANF) all sliding more than 2%. Shares of Polo Ralph Lauren (RL, Fortune 500) and JC Penney (JCP, Fortune 500) fell more than 4%.
"When you see these retailers give numbers like this, you get concerned that the consumer is starting to give up some ground, with high oil prices and all," said Anthony Conroy, head trader at BNY ConvergEX.
Speaking of oil prices, crude rose 1.2% to settle at $100.10 a barrel. Prices have largely stayed around the $100 mark for the past few weeks.
Meanwhile, Greece's debt troubles returned to haunt investors after Fitch Ratings cut the debt-ridden country's credit rating by three notches. The downgrade pushed Greek bonds further into "highly speculative" junk territory.
The disappointing corporate news coupled with several lackluster economic reports have kept investors sidelined in recent days.
For the week, the Dow slipped 0.7%, the S&P 500 dipped 0.3% and the Nasdaq slid 0.9%. All three indexes are down more than 2% for the month of May.
Stocks ended slightly higher Thursday, after a very choppy trading session.
Companies: After debuting Thursday on the New York Stock Exchange, shares of LinkedIn (LNKD) remained more than double their IPO price -- making the business-oriented social network one of the biggest tech IPOs since Google (GOOG, Fortune 500). LinkedIn shares fell 1.2% during its second day as a publicly-traded company.
Shares of Barnes & Noble (BKS, Fortune 500) jumped 30% after the bookseller announced a buyout proposal by Liberty Media for $17 per share in cash -- a nearly $1 billion buyout offer.
World markets: European stocks moved Friday. Britain's FTSE 100 edged lower 0.1%, the DAX in Germany fell 1.2% and France's CAC 40 lost 0.2%.
Asian markets ended mixed. The Shanghai Composite shed less than 0.1% and Japan's Nikkei edged lower 0.1%, while the Hang Seng in Hong Kong rose 0.2%.
Currencies and commodities: The dollar bounced against the euro following the downgrade on Greece. But the greenback lost ground versus the British pound. It was slightly higher versus Japanese yen.
Gold futures for June delivery rose $16.50, or 1.1%, to settle at $1,508.90 an ounce.
Silver futures for July delivery gained 25 cents, or 0.7%, to settle at $35.18 an ounce.
Bonds: The price on the benchmark 10-year U.S. Treasury rose, with the yield slipping to 3.15% from 3.17% late Thursday.