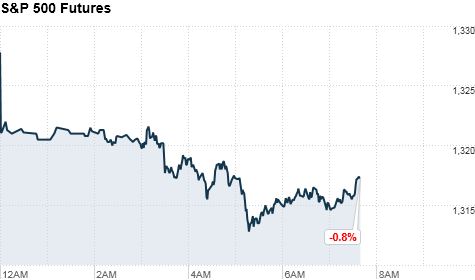 Click on chart for premarket data.
NEW YORK (CNNMoney) -- U.S. stocks were headed for an early sell-off Monday, taking cues from world markets, which tumbled after rating agencies downgraded Greece and Italy late last week.
Dow Jones industrial average (INDU), S&P 500 (SPX) and Nasdaq (COMP) futures were all about 1% lower ahead of the opening bell. Futures measure current index values against perceived future performance.
On Friday, rating agency Fitch cut Greece's credit rating by three notches to "highly speculative," putting it in junk bond territory. In addition, Standard & Poor's slashed Italy's outlook to 'negative' from 'stable.' These downgrades, combined with a weaker-than-expected reading on manufacturing in Europe released Monday, renewed concerns about the eurozone's debt crisis.
Furthermore, Spain's socialist ruling party was hit with the worst election defeat in years over the weekend, as citizens continued to protest the weak economy and high unemployment.
"The eurozone is in focus today, and the worry is that this [debt crisis] is going to drag on and on, and that we may be at risk of a Greek default," said David Jones, chief market strategist at IG Markets. "We already had Greece, Ireland and Portugal downgrades last year, and it looks like the spread isn't ending -- so there's no appetite for risk as a result."
Financial stocks were under pressure, with shares of Bank of America (BAC, Fortune 500), JPMorgan Chase (JPM, Fortune 500), Wells Fargo (WFC, Fortune 500), Citigroup (C, Fortune 500) and Goldman Sachs (GS, Fortune 500) all down more than 1%.
Stocks finished lower Friday, as the dollar rallied on worries over Greece's debt. By the end of trading, the Dow had dropped almost 100 points.
Looking ahead to the new week, there aren't a lot of reasons for optimism. Investors seem to have taken the old Wall Street adage of "Sell in May, then go away" to heart this year.
All stock indexes are down more than 2% this month. Both the Dow and S&P have posted weekly declines for three weeks in a row.
"The Dow has been declining since May, and we could see a move to April's lows with all the European concerns in the last couple weeks along with the volatility in commodities because of worries about global demand," said Jones.
Companies: Shares of entertainment products maker Sony (SNE) slipped nearly 3% in premarket trading. The company posted a $3.19 billion annual loss and cut its full-year earnings outlook, to reflect damages of the earthquake and tsunami in Japan.
Shares of Krispy Kreme (KKD) jumped more than 9% in premarket trading, after the doughnut maker beat earnings per share by 4 cents on strong sales.
World markets: European stocks sank in midday trading. Britain's FTSE 100 dropped 1.6%, while the DAX in Germany tumbled 1.8% and France's CAC 40 fell 1.7%.
Asian markets ended sharply lower. The Shanghai Composite plunged 3%, the Hang Seng in Hong Kong shed 2% and Japan's Nikkei declined 1.5%.
Preliminary data released Monday showing Chinese manufacturing dropped to a 10-month low in May only added to the selling pressure, as investors continued to worry about global growth, said Jones.
Currencies and commodities: The dollar gained against the euro, the British pound and the Japanese yen.
Oil for July delivery fell $2.50, or more than 2%, to $97.60 a barrel.
Gold futures for July delivery slipped 90 cents to $1,508.50 an ounce.
Bonds: The price on the benchmark 10-year U.S. Treasury jumped, pushing the yield down to 3.11% Monday from 3.15% late Friday.