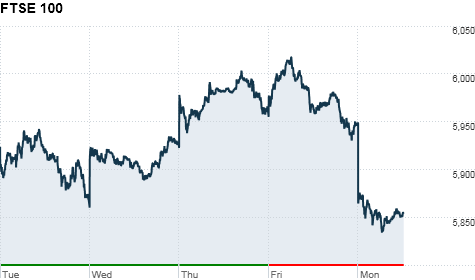 For more world market data, click chart.
NEW YORK (CNNMoney) -- Eurozone concerns sparked an international stock sell-off Monday.
In Europe, London's FTSE dropped more than 1.7%, while the DAX in Frankfurt and the CAC in Paris each fell more than 1.8%.
Asian markets also took a hit, with the Shanghai composite and Hang Seng, both in China, closing down more than 2% and Japan's Nikkei closing down 1.5%.
Wall Street was set to feel the pain as well. In premarket trading, major index stock futures were down around 1%, pointing to a potential retreat after the opening bell.
The equity anxiety can be traced back to Friday, when Fitch Ratings downgraded Greece's credit rating by three notches and Standard & Poor's cut Italy's outlook to negative from stable.
On Monday, a weaker-than-expected reading on manufacturing in Europe gave investors even more reason to be worried about the eurozone.
The dollar was one of the few beneficiaries, according to a report from Brown Brothers Harriman, which said the overseas turmoil was propping up U.S. currency on the back of a weakening euro.
"The U.S. dollar is stronger across the board as Europe's failing approach to its debt crisis resurrects fears of a eurozone breakup, sending shockwaves across capital markets," said the report, authored by Marc Chandler and other Brown Brothers analysts.
Brown Brothers also said that Spanish political turmoil surrounding that nation's austerity measures was undermining faith in the eurozone.
"The euro is weaker across the board, undermined by escalating fears of Greek default, a wide defeat for Spain's Socialist government in the weekend elections and possibility of further downgrades across the periphery," said the report.
Some of this anxiety has spread to Asian markets, though Asia also has its own host of problems that are dragging down its markets, according to a report from Deutsche Bank analysts Jim Reid and Colin Tan.
"The Japanese market is also being impacted by an 8% drop in TEPCO's [Tokyo Electric Power Company] shares to a record low after reporting a sharp full-year loss last week on the recent nuclear incident," said the Deutsche Bank report.
The report also said that Chinese markets are "probably not being helped" by a drop in Chinese manufacturing for May.
Going forward, the Deutsche Bank analysts said, "The risk of an upcoming wave of political upheaval in Europe is increasing. This creates lingering uncertainty."