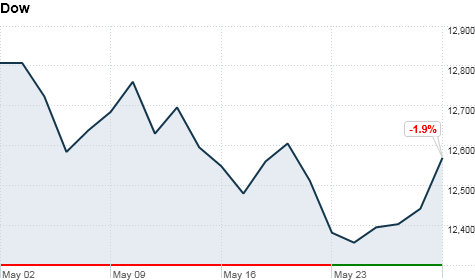 Click chart for more stock market data.
NEW YORK (CNNMoney) -- The rally in U.S. stocks regained momentum Tuesday afternoon, but the day's gains weren't enough to lift the market out of the red for the month.
In fact, the market's performance in May was the worst since August 2010. The Dow tumbled nearly 2% for the month, while the S&P 500 and the Nasdaq lost 1.3%.
May has been a rough month for the stock market as investors wrestle with signs of a slower recovery.
On Tuesday, investors sifted through yet another batch of weak U.S. economic data that showed a decline in home prices, regional manufacturing activity and consumer confidence.
But optimism about the possible bailout for Greece, sparked by a Wall Street Journal article, gave stocks a boost.
The Dow Jones industrial average (INDU) surged 128 points, or 1%. All but one of the Dow's components posted gains, with Pfizer (PFE, Fortune 500), Cisco (CSCO, Fortune 500) and Alcoa (AA, Fortune 500) leading the advance.
The S&P 500 (SPX) added 14 points, or 1.1%, and the Nasdaq Composite (COMP) gained 38 points, or 1.4%.
The Journal reported that Germany is shifting its stance to consider lending more money to debt-ridden Greece. Previously, German officials had said that private investors in Greece should share some of the burden in any new bailout, but according to the Journal, Germany is now considering lending additional assistance -- even without private bondholders getting involved.
"The market is battling between growing fears that the U.S. economy is headed toward another downturn, and some progress on the European debt problems," said Peter Tuz, president at Chase Investment Counsel.
U.S. investors are also gearing up for the government's highly anticipated monthly jobs report on Friday.
CNNMoney's survey of economists forecast that the U.S. economy created 178,000 jobs in May, down from 244,000 jobs a month earlier. The unemployment rate is expected to tick down to 8.9% from 9%.
U.S. stocks rose modestly last Friday, with trading volume light as traders positioned themselves for a long holiday weekend. The stock market was closed Monday for Memorial Day.
Economy: According to the closely watched S&P Case-Shiller Index, home prices recently fell to their lowest levels since the housing bubble burst. Prices tumbled 4.2% in the first quarter, sending home prices back to levels not seen since mid-2002.
The Chicago Purchasing Managers index fell more than expected to 56.6 in May, from 67.6 the previous month. Economists were expecting the figure to slip to 62.5.
The Conference Board's consumer sentiment index declined to 60.8 in May, from 65.4 in April. Economists were expecting consumer confidence to rise to 66.3.
Companies: Shares of Nokia (NOK) tumbled 14%, after Nokia issued a sales warning that the second quarter will be lower than previously expected. The cell phone maker, which has been losing market share to Apple (AAPL, Fortune 500) and Google (GOOG, Fortune 500), also lowered its full-year outlook.
Shares of Apple rose 3% after the company said that CEO Steve Jobs, who is on medical leave, will introduce the iCloud service during the Worldwide Developers Conference keynote on June 6 in San Francisco.
World markets: European stocks climbed Tuesday. Britain's FTSE 100 rose 0.9%, the DAX in Germany surged 1.9%, and France's CAC 40 added 1.6%.
Asian markets ended sharply higher. The Shanghai Composite rose 1.4%, the Hang Seng in Hong Kong gained 2.2% and Japan's Nikkei added 2%.
Early Tuesday, Moody's placed 12 Japanese regional governments on review for a possible downgrade.
Currencies and commodities: The dollar fell against the euro, but rose versus the British pound and the Japanese yen.
Oil for July delivery rose $2.11, or 2.1%, to settle at $102.70 a barrel.
Gold futures for August delivery slipped 50 cents to settle at $1,536.80 an ounce.
Bonds: The price on the benchmark 10-year U.S. Treasury rose, pushing the yield down to 3.05% from 3.06% late Friday.