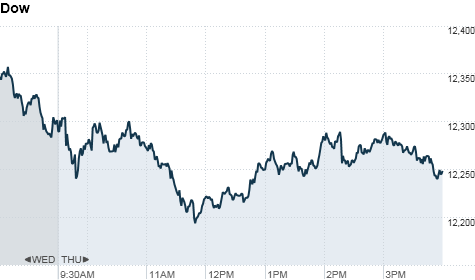 Click the chart for more market data.
NEW YORK (CNNMoney) -- U.S. stocks closed mostly lower on Thursday, with the Dow and S&P falling for a second day in a row, as fears about the economy and concerns about consumer spending weighed on investors' minds.
The Dow Jones industrial average (INDU) fell 42 points, or 0.3%, to end at 12,249, with Wal-Mart (WMT, Fortune 500) and Chevron (CVX, Fortune 500) the biggest drags on the blue-chip index. At one point in the session, the Dow stumbled nearly 100 points.
The S&P 500 (SPX) lost 2 points, or 0.1%, to 1,313; and the Nasdaq Composite (COMP) rose 4 points higher, or 0.2%.
Retail stocks pressured the broader market throughout the day, as major retail chains reported mostly disappointing same-store sales. Limited Brands (LTD, Fortune 500), Kohl's (KSS, Fortune 500) and Gap (GPS, Fortune 500) were among the worst performers on the S&P 500.
"Those are some pretty big names giving some disappointing numbers," said Frank Davis, senior equity trader with Wedbush Morgan Securities. "It adds to the already-heightened anxiety over the recent economic data."
Investors also remained sharply focused on the labor market. Weekly jobless claims stayed above the 400,000 level for the eighth straight week.
"Jobless claims have taken a lot more meaning over the last several weeks," said Mark Luschini, chief investment strategist at Janney Montgomery Scott.
The figure takes on even more importance in light of Wednesday's "shockingly weak" private sector jobs report, Luschini added. Both reports come ahead of the government's key monthly jobs report on Friday.
A CNNMoney survey of 26 economists expect a total gain of 170,000 jobs, and a private sector gain of 190,000; with the unemployment rate edging down to 8.9%.
Signs of a stalling recovery have been building, with stocks delivering their worst monthly performance in May since August 2010. But all three indexes are still up for the year so, while the daily gyrations may give investors nausea, the trend is still higher.
Stocks fell sharply Wednesday, with the Dow and S&P 500 posting their steepest losses in nearly a year, following weak reports on jobs and manufacturing. A late downgrade on Greece's debt added to the rout.
Economy: The U.S. Commerce Department said April factory orders fell 1.2% -- slightly more than the 1% decline economists had expected.
Moody's said would consider downgrading the United States' AAA rating if Congress failed to act on the debt ceiling.
Companies: Shares of the for-profit education stocks jumped, after the Department of Education issued its final rules that aim to halt federal aid to schools whose graduates cannot earn enough to repay their loans.
Shares of Corinthian Colleges (COCO) spiked 27%, while shares of Apollo Group (APOL, Fortune 500) rose 11% on the news. Bridgepoint Education's (BPI) stock added 3%.
Online coupon company Groupon filed for a $750 million initial public offering on Thursday. Groupon plans to trade under the symbol "GRPN."
In the financial sector, Goldman Sachs (GS, Fortune 500) shares slid more than 1% on reports that the Manhattan Attorney General's office is investigating the bank.
Currencies and commodities: The dollar fell 1% against the euro. The greenback was also lower versus the Japanese yen and the British pound.
Oil for July delivery closed up 11 cents to $100.40 a barrel. AAA reported Thursday morning that gas prices rose to $3.784 per gallon, following 20 consecutive decreases.
Gold futures for July delivery dropped $10.50 to $1,535.50 an ounce.
Bonds: The price on the 10-year U.S. Treasury fell, pushing the yield up to 3.03%. On Wednesday. the benchmark yield fell below 3% Wednesday for the first time since December.
World markets: Global markets fell sharply following Wall Street's deep losses on Wednesday, and as investors digested yet another downgrade on Greece debt.
Britain's FTSE 100 slid 1.4%, while the DAX in Germany and France's CAC 40 tumbled nearly 2%.
In Asia, the Shanghai Composite lost 1.4%, the Hang Seng in Hong Kong declined 1.6%, and Japan's Nikkei sank 1.7%.
Japan's market was under pressure amid domestic political turmoil. Japanese Prime Minister Naoto Kan survived a no-confidence vote in Parliament Thursday, by promising he will resign after the country's nuclear crisis is under control.