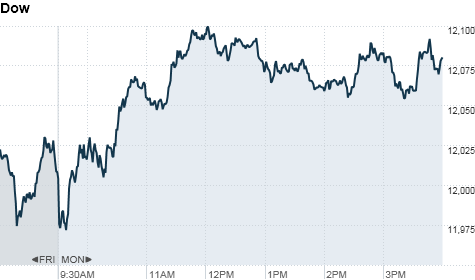 Click chart for more market data.
NEW YORK (CNNMoney) -- U.S. stocks managed decent gains Monday, even as investors remained cautious about Greece's debt crisis.
After slipping about 0.3% in the opening minutes, the major indexes turned higher, with the Dow Jones industrial average closing (INDU) up 76 points, or 0.6%.
Financial stocks JPMorgan Chase (JPM, Fortune 500) and Bank of America (BAC, Fortune 500) were the biggest laggards, while DuPont (DD, Fortune 500) and Caterpillar (CAT, Fortune 500) led the gains.
The S&P 500 (SPX) rose 7 points, or 0.5%, and the Nasdaq composite (COMP) rose 13 points, or 0.5%. Biogen Idec (BIIB, Fortune 500) was the best performer on both indexes, with shares rising more than 4%.
The gains were limited as investors grappled with the latest news on the Greek debt crisis. European finance ministers said Monday that the country won't receive fresh loans until mid-July.
"All eyes are on the Greek debt situation and whether more help is on the way," said Sameer Samana, an analyst at Wells Fargo Advisors. He said ongoing developments in Greece will likely continue to drive market action, as investors wait for the debt-ridden country to pass more austerity measures.
White House spokesman Jay Carney said Monday that the Obama administration believes that Greece's debt situation can be resolved with Europe's help, but "it does create a headwind."
Greek debt woes have been pressuring stock markets around the world in recent weeks, as investors worry that the country will default on its debt and the crisis will spread to other countries. The Dow and S&P 500 are down about 6% since the start of May, while the tech-heavy Nasdaq has lost nearly 9%.
Adding fuel to the fire, credit agency Moody's said Friday that it was putting Italy on watch for a possible credit rating downgrade.
Despite Moody's warning, the Dow managed to break its six-week losing streak last week.
Companies: Ford Motor Co. (F, Fortune 500) plans to invest $1 billion to revamp its struggling Lincoln brand, the Wall Street Journal reported Sunday, citing dealers briefed on the plan. Shares of the automaker rose 1.3%.
PNC Financial Services Group (PNC, Fortune 500) said early Monday that it will buy the U.S. retail banking division of Royal Bank of Canada (RY) for $3.45 billion. Shares of PNC were down 2%, while share of Royal Bank edged up 0.2%.
Shares of land driller Nabors Industries (NBR) fell 1.8%, after the company trimmed its second-quarter outlook.
Chinese social networking site Renren (RENN) is slated to report results after the market close. Shares of Renren, which went public last month, rose 8%. The stock has declined 50% from its IPO price.
World markets: European stocks finished slightly lower. Britain's FTSE 100 slumped 0.1%, the DAX in Germany slipped 0.2% and France's CAC 40 dropped 0.6%.
Asian markets ended the session mixed. The Shanghai Composite lost 0.8%, the Hang Seng in Hong Kong slipped 0.4% and Japan's Nikkei ended just above breakeven.
Currencies and commodities: The dollar was flat versus the euro and the British pound, and gained slightly against the Japanese yen.
Oil for July delivery rose 16 cents, or 0.2%, to settle at $93.26 a barrel, following steep losses from the previous week.
Gold futures for August delivery gained $2.90 to settle at $1,542.00 an ounce.
Bonds: The price on the benchmark 10-year U.S. Treasury fell, pushing the yield up to 2.96% from 2.94% late Friday.