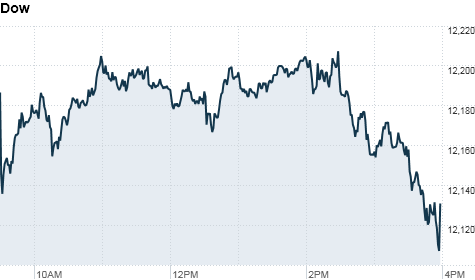 Click chart for more market data.
NEW YORK (CNNMoney) -- U.S. stocks fell Wednesday after the Federal Reserve issued a dour assessment of the economy but gave no indication that additional stimulus measures are in the works.
The Dow Jones industrial average (INDU) fell 80 points, or 0.6%, to 12,109. The S&P 500 (SPX) lost 8 points, or 0.6%, to 1,287. The Nasdaq Composite (COMP) tumbled 18 points, or 0.7%, to 2,669.
Stocks had drifted between small gains and losses throughout the day before the selling picked up steam in the final hour of trading.
Shares of Boeing (BA, Fortune 500) fell 2.5%, making it the worst performer on the Dow. But the selling was broad based, with only three stocks in the blue-chip index ending in the black.
In a widely expected move, the Fed held its benchmark interest rate near zero percent, saying the economic recovery has been weaker than expected.
Echoing past statements, the Fed said economic growth remains tepid enough to justify "exceptionally low" interest rates for an "extended period" of time.
"There was was no 'new news' in the Fed's statement today," said Nigel Gault, an economist IHS Global Insight.
The central bank also repeated that its $600 billion stimulus program will end next week, as scheduled. It will continue to use interest earned on its $2.6 trillion portfolio of securities to buy long-term Treasuries.
In his post-statement press conference, Bernanke said the recent economic slowdown is largely due to temporary factors such as supply disruptions from the earthquake in Japan.
But he acknowledged that more long-term problems may be behind the sluggish growth this year.
"We don't have a precise read on why this slower pace of growth is persisting," Bernanke said.
Given the uncertain outlook, Bernanke said the Fed will not act for "at least" another two or three meetings, suggesting that rates will remain low until November.
"It depends on how the economy and economic outlook changes," he added.
Separately, the Fed issued an update to its economic projections. The bankers lowered their target for economic growth and raised their forecast for the unemployment rate.
"Overall, the tenor of today's policy statement and Bernanke's words would best be described as mixed and uncertain," said Guy LeBas, a strategist at Janney Capital Markets. "The markets' response was similarly mixed."
Stocks rose Tuesday, ahead of a key confidence vote in Greece, that boosted the likelihood that the country will be able to secure a bailout package and avert a default.
Companies: FedEx (FDX, Fortune 500) reported earnings and sales that topped forecasts, and hiked its outlook. That sent shares of the shipping company up 3%. Shares of rival UPS (UPS, Fortune 500) edged up nearly 1%.
Shares of Adobe Systems (ADBE) slumped more than 6%. The software maker posted a 54% jump in second-quarter profit after the market close Tuesday, but issued a revenue outlook that fell short of expectations.
Carmax (KMX, Fortune 500) reported first-quarter earnings that widely beat expectations, sending shares of the company 7.5% higher.
Royal Phillips Electronics (PHG) warned that second-quarter profit would drop sharply and miss expectations. U.S.-listed shares of the electronics maker tumbled 10%.
Bed Bath & Beyond (BBBY, Fortune 500) will report quarterly results after the market close Wednesday. The home decor retailer is expected to report earnings of 62 cents a share.
Video streaming website Hulu LLC is considering putting itself up for sale, according to news reports that cite people familiar with the situation.
World markets: European stocks lost ground. France's CAC 40 dropped and the DAX in Germany both lost 0.1% and Britain's FTSE 100 was little changed.
Asian markets ended higher. The Shanghai Composite inched up 0.1%, while the Hang Seng in Hong Kong ended barely above breakeven, and Japan's Nikkei jumped 1.8%.
Currencies and commodities: The dollar gained against the British pound, but edged lower versus the euro and Japanese yen.
Oil for August delivery gained $1.24, or 1.3%, to $95.41 a barrel.
Motorist group AAA released a forecast saying more Americans are staying home for the 4th of July weekend compared to last year -- with 39 million Americans expected to travel 50 miles or more from home between Thursday, June 30 and Monday, July 4. That's down 2.5% from last year, when 40 million Americans celebrated the long weekend away from home.
Gold futures for August delivery added $8 to $1,554.40 an ounce.
Bonds: The price on the benchmark 10-year U.S. Treasury held steady, with the yield unchanged from Tuesday at 2.99%.