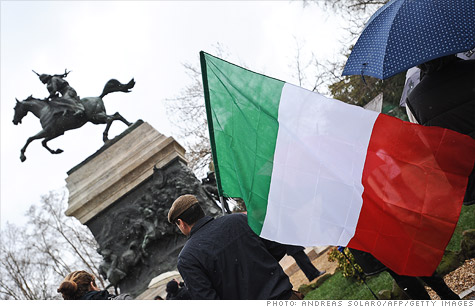 NEW YORK (CNNMoney) -- World markets slumped Monday, as fears about debt crises plagued both Europe and the United States.
Italy in particular, was shoved into the spotlight. Public sparring last week between Italy's prime minister, Silvio Berlusconi, and finance minister Giulio Tremonti heightened fears that the debt crisis in Greece and Portugal was spreading to the continent's third-largest economy.
"Beware." Tremonti was quoted as saying by Italian newspapers, in response to rumors that he might resign. "If I fall, then Italy falls. If Italy falls, then so falls the euro. It is a chain."
Global investors are concerned that Tremonti -- credited with saving Italy from the worst of the euro zone's debt crisis -- will be forced out of the government, after his push for steep spending cuts was met with resistance from the prime minister and other cabinet members.
That raises fears that Italy's government is not as committed to enacting necessary austerity measures, as Greece or other debt-stricken euro zone countries.
"What we need to see in Italy is some concrete and clear demonstration that they're not going to be backsliding on austerity -- and that Tremonti will not lose his job," said Peter Westaway, chief European economist with Nomura.
In what Italian media dubbed "Black Friday," Italian stocks and bond yields plummeted at the end of last week, and trading was suspended for some Italian bank stocks following sharp sell-offs.
"What we're seeing over the last few days in Italy is investors are already starting to speculate against Italy," Westaway said. "I don't think policymakers can sit on their hands any longer and just hope contagion doesn't happen."
The selling continued Monday amid fears that those banks won't be able to pass euro zone stress tests -- the results of which will be published Friday. Of the 91 European banks that will undergo the stress tests, about 15 are expected to fail.
Shares of Banco Bilbao Vizcaya Argentaria (BBVA) fell more than 5%, while shares of Bank of Ireland (IRE), Barclays (BCS) and Deutsche Bank (DB) all slumped more than 4%.
Jitters about the debt crisis spilled over to Europe's major stock indexes, sending Britain's FTSE 100 (UKX) down 1%, Germany's DAX (DAX) falling 2.3% and France's CAC 40 (CAC40) tumbling 2.7%.
The European Council called an emergency meeting Monday to discuss the continent's debt crisis, ahead of an already scheduled meeting of the eurozone's 17 finance ministers.
Moody's Investors Service downgraded Portugal's debt last week, and two weeks ago, Greece agreed to implement painful austerity measures in exchange for another round of bailout funding.
U.S. markets: American investors got little comfort from lawmakers, who failed to strike a deal on raising the government's debt ceiling.
Ratings agencies have warned, If the ceiling isn't raised by Aug. 2, the country's pristine credit rating could fall, potentially sending shock waves rippling through the world economy.
In midday trading, the Dow Jones industrial average (INDU), the S&P 500 (SPX) and the Nasdaq (COMP) were all down more than 1%, with shares of JPMorgan Chase (JPM, Fortune 500), Citigroup (C, Fortune 500) and Bank of America (BAC, Fortune 500) all down roughly 3%.
Asian markets: Stocks ended the day mostly lower in Asia, as investors mulled over reports on China's inflation rate and trade balance.
The Hang Seng (HSI) in Hong Kong tumbled 1.7% and Japan's Nikkei 225 (NKY) fell 0.7%. But the Shanghai Composite (SHCOMP) in China inched up 0.2%.