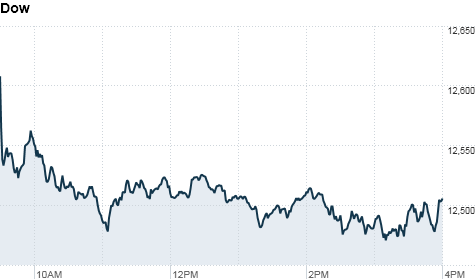 Click the chart for more market data.
NEW YORK (CNNMoney) -- U.S. stocks sank Monday as investors got spooked by worries that Europe's debt crisis could spread to Italy, one of Europe's largest economies.
The Dow Jones industrial average (INDU) sank 152 points, or 1.2%, to close at 12,505. The S&P 500 (SPX) fell 24 points, or 1.8%, to 1,319; and the Nasdaq Composite (COMP) fell 57 points, or 2%, to 2,803.
The selling was broad, with all 30 Dow stocks in the red. Shares of Bank of America (BAC, Fortune 500) and JPMorgan (JPM, Fortune 500), along with Hewlett Packard (HPQ, Fortune 500), were among the worst performers on the blue chip index.
Stocks fell sharply in Europe on concerns about Italy's banking sector and the nation's debt load. European officials met Monday to discuss Greece and other debt-stricken members of the European Union.
The selloff spilled over into the U.S. market as traders worry that the fiscal problems facing troubled EU members such as Greece, Portugal and Ireland may be spreading to larger economies in the monetary union, including Italy and Spain.
"This is potentially a cascading crisis," said Bruce McCain, chief investment strategist at Key Private Bank.
The intensifying worries about a broader debt crisis in Europe sent investors flocking to assets that are seen as safer alternatives.
The U.S. dollar jumped 1.7% against the euro, and U.S. Treasury prices rose, with the 10-year yield back below 3%. Gold rallied to near record highs and oil prices dropped 1% to $95.15 a barrel.
Wall Street's most widely cited measure of volatility and fear, the VIX (VIX), jumped 2.8 points, or 18%, to 18.8 points.
In the United States, investors have been grappling with signs that the nation's economy is deteriorating, including a much weaker than expected report on the nation's job market last week.
Adding to the bearish tone, inflation and export data released by China over the weekend raised concerns that the world's second largest economy may be slowing, and that China may raise interest rates further to cool inflation.
After the closing bell, Alcoa (AA, Fortune 500) reported a larger than expected gain in second-quarter sales, sending its shares up slightly in extended trading. The Dow component is the unofficial harbinger of earnings season, when public companies report earnings and sales data.
Earnings for the companies in the S&P 500 are expected to be up 7.4% in the quarter, according to analysts at Thomson Reuters. Revenue is forecast to increase 10%.
Among the companies scheduled to report this week are JPMorgan Chase, Citigroup (C, Fortune 500) and Google (GOOG, Fortune 500).
Stocks posted modest gains last week as concerns about the U.S. economy continue to weigh on the market.
Companies: News Corp. (NWSA, Fortune 500) sank 7% after the company said it was continuing its bid to purchase satellite TV company British Sky Broadcasting despite heightened political heat from the"News of the World" hacking scandal.
The company said in a statement that it is taking its bid in front of the U.K.'s Competition Commission, effectively delaying News Corp's possible purchase of BSkyB until the first part of 2012 at the earliest.
World markets: European stocks fell in Monday trading. Britain's FTSE 100 lost 1%, the DAX in Germany declined 2% and France's CAC 40 sank 2.4%.
Shares of European banks fell hard for a second day as investors worry about the sector's exposure to Greek debt.
The selling came ahead of stress test results due Friday. Of the 91 European banks that will undergo testing, about 15 are expected to fail.
Meanwhile, European policymakers are reportedly discussing moves that would cut Greece's debt burden rather than simply lengthening the payback period.
Asian markets ended mostly lower. The Hang Seng in Hong Kong dropped 1.7% and Japan's Nikkei lost 0.7%. The Shanghai Composite was the lone bright spot, increasing 0.2%
China said late Friday that consumer prices rose 6.4% over the last 12 months ending in June, the fastest pace in inflation since July 2008 and an acceleration from May's 5.5% rate.
Meanwhile, China reported a $22.3 billion trade surplus in June, up from a $13.05 billion surplus in May. But the pace of China's robust export growth slowed slightly to 17.9% in June from 19.4% in May.