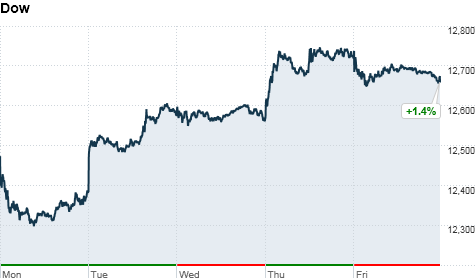 Click the chart for more market data.
NEW YORK (CNNMoney) -- U.S. stocks ended Friday's session mixed, as strong gains in the technology sector were offset by disappointing results from industrial conglomerate Caterpillar.
The tech-heavy Nasdaq Composite (COMP) gained 24 points, or 0.9%, to 2,859. The index climbed roughly 2.5% for the week.
The Nasdaq's Friday advance was fueled primarily by two chip makers: Sandisk (SDSK) and Advanced Micro Devices (AMD, Fortune 500) -- after both companies posted better-than-expected results and raised their full-year revenue forecasts. Sandisk shares climbed 10% while AMD shares jumped 19%.
Both companies' gains spilled over into other Nasdaq-traded tech firms, including Micron (MU, Fortune 500), Microchip Technology (MCHP) and Seagate (STX), which were all up 2% or more.
The Dow Jones industrial average (INDU) lost 43 points, or 0.3%, to close at 12,681; and the S&P 500 added slightly more than a point to close at 1,345. The Dow rose 1.4% for the week and the S&P rose more than 2%.
Caterpillar (CAT, Fortune 500) shares were the biggest drag on the Dow, sinking nearly 6%. The construction equipment maker was the weakest member of Dow and the fourth -worst performer on the S&P 500 (SPX), which was up 2 points. Caterpillar's earnings fell short of forecasts.
"There were pretty high expectations for Caterpillar heading into its earnings this season," said Anthony Conroy, head trader with BNY ConvergEx. "Despite their miss, I'm still optimistic for this earnings season."
Caterpillar's disappointing report dragged other equipment manufacturers lower as well, including shares of Deere (DE, Fortune 500), Cummins (CMI, Fortune 500) and Joy Global (JOYG).
While some more bearish traders pointed to Caterpillar's results as a sign there is still weakness in the economy, others felt that Caterpillar's weakness appeared to be more temporary.
"The problem with Caterpillar was, by and large, Japan," said Phil Orlando, market strategist with Federated Investors. "Caterpillar is just one of many companies who can point to the supply chain problems following the Japanese earthquake. I think it sets them up for a stronger second half of the year."
Other industrial conglomerates such as General Electric (GE, Fortune 500) and Honeywell (HON, Fortune 500) which also reported Friday, had decidedly better results, which Orlando said is an indication that Caterpillar's problems seem to be isolated.
Friday's weakness came a day after U.S. stocks surged, following news that European leaders reached an agreement to contain Greece's debt crisis.
The aid package, which officials said will cover all of Greece's financing needs, involves lowering interest rates and extending the payback period on existing loans to Greece from the EU and International Monetary Fund.
"The outlook for both the U.S. and Europe is clearly getting better but it's not over yet," Conroy said.
Companies: General Electric (GE, Fortune 500) reported operating earnings of $3.7 billion or 34 cents per share -- a jump of 17% from the year-ago quarter. Shares fell less than 1%.
CoinStar (CSTR) shares dropped 8%, after the head of the company's RedBox unit unexpectedly resigned on Friday. CoinStar makes the bulk of its profits from RedBox.
Shares of Verizon (VZ, Fortune 500) fell 3%, after the company announced it didn't sell as many iPhones as anticipated, despite reporting stronger-than-expected earnings. The company reported quarterly earnings per share of 57 cents, topping analyst estimates by 2 cents.
Former Dow member Honeywell (HON, Fortune 500) beat analyst estimates with second-quarter earnings of $1.02 per share. The company reported revenue of $9.1 billion, excluding $234 million from a newly discontinued operation. Shares fell about 3%.
McDonald's (MCD, Fortune 500) reported earnings of $1.35 per share, compared to $1.13 in year-ago quarter. Shares rose 2% - making it the best-performing stock on the Dow.
Currencies and commodities: The dollar strengthened against the euro and British pound, but weakened against the Japanese yen.
Oil for September delivery rose 74 cents to $99.87 a barrel.
Gold futures for August delivery climbed $14.50 to $1,601.50 an ounce.
Bonds: The price on the benchmark 10-year U.S. Treasury rose, pushing the yield down to 2.98% from 3.01% late Thursday.
World markets: European stocks ended modestly higher. Britain's FTSE 100 climbed 0.6%, France's CAC 40 gained 0.7% and the DAX in Germany rose 0.5%.
Asian markets ended higher. The Shanghai Composite ticked up 0.2%, the Hang Seng in Hong Kong rallied 2.1% and Japan's Nikkei increased 1.2%.