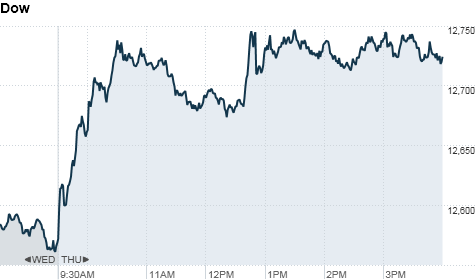 Click the chart for more market dat
NEW YORK (CNNMoney) -- U.S. stocks surged on Thursday, following news that European leaders reached an agreement to contain Greece's debt crisis.
Gains were further fueled by reports that the White House and House Republicans may have reached an agreement regarding the country's deficit problems and the debt ceiling. Both the White House and House Speaker John Boehner 's offices denied the reports.
The Dow Jones industrial average (INDU) ended 153 points higher, or up 1.2%, at 12,724; the S&P 500 (SPX) added 18 points, or 1.4%, to 1,344 and the Nasdaq composite (COMP) rose 20 points, or 0.7%, to 2,834.
Market gains were broad, with 29 out of the 30 members of the Dow higher. The blue chips were led by shares of Walt Disney (DIS, Fortune 500), Bank of America (BAC, Fortune 500) and Cisco (CSCO, Fortune 500). The only Dow member lower was Intel (INTC, Fortune 500), which was down less than 1%. The chipmaker reported its earnings after Wednesday's closing bell.
Stocks started rising early Thursday on news that European Union officials agreed to provide additional aid for Greece and overhaul the EU bailout fund.
Before the summit's official start, two crucial players -- German Chancellor Angela Merkel and French President Nicolas Sarkozy -- reached a consensus on a deal that would provide more aid to Greece.
European markets rose on the initial reports. Britain's FTSE 100 added 0.9%, the DAX in Germany gained 1.1% and France's CAC 40 advanced nearly 2%.
"Both the European sovereign debt crisis and the U.S. debt ceiling problems appear to have become non-issues -- at least in the short term -- which will allow investors to focus more on earnings," said Quincy Krosby, market strategist with Prudential Financial.
U.S. stocks ended little changed Wednesday, as investors moved to the sidelines to survey the latest twists in the debt ceiling drama.
President Obama indicated earlier this week that he would support a plan to raise the debt ceiling that had been floated by a bipartisan group of senators. But investors are still concerned that the Gang of Six's plan may not have enough time or support to make it through Congressional negotiations by Aug. 2.
Economy: The Labor Department's weekly report on initial unemployment claims climbed by 10,000 to 418,000 in the latest week. Economists surveyed by Briefing.com expected claims to rise to 411,000.
The Philadelphia Federal Reserve's manufacturing index rose to 3.2 in July, from a -7.7 the previous month. Economists were expecting manufacturing activity to stay flat during the month.
Companies: Express Scripts (ESRX, Fortune 500) announced early Thursday morning it will buy Medco Health Solutions (MHS, Fortune 500) in a deal worth $29.1 billion, combining two of the country's largest pharmacy benefit managers. Shares of Medco spiked 14%.
Morgan Stanley (MS, Fortune 500)'s stock jumped almost 11%, after the bank reported a net loss of 38 cents per share, on revenues of $9.3 billion for the second quarter. Analysts had expected the Morgan Stanley to post a loss of 64 cents a share.
Shares of Motorola Mobility (MMI) jumped 12% after activist investor Carl Icahn said that the company should explore auctioning off some of its key patents.
Genworth Financial (GNW, Fortune 500) shares slumped 13% after the company said late Wednesday that it expects to report a loss for the second quarter.
Shares of Microsoft (MSFT, Fortune 500) were up 1% in the post-market session after the software company's earnings of 69 cents a share, beating the 58 cents that analysts had expected.
After the bell, investors will get earnings results from Intel competitor Advanced Micro Devices (AMD, Fortune 500), as well as software maker Microsoft (MSFT, Fortune 500).
Currencies and commodities: The dollar weakened against the euro, the Japanese yen, and British pound.
Oil for September delivery rose 73 cents to $99.13 a barrel.
Gold futures for August delivery fell $9.90 to $1,587 an ounce.
Bonds: The price on the benchmark 10-year U.S. Treasury dropped, pushing the yield up to 3.02% from 2.93% late Wednesday.
World markets: Asian markets ended lower, after China reported weak manufacturing data for July. The Shanghai Composite shed 1% and the Hang Seng in Hong Kong dropped 0.1%, while Japan's Nikkei was flat.
The International Monetary Fund urged China on Thursday to allow its yuan to strengthen under more normal market conditions. The United States and other nations have long complained that China artificially weakened its currency to gain an unfair trade advantage.