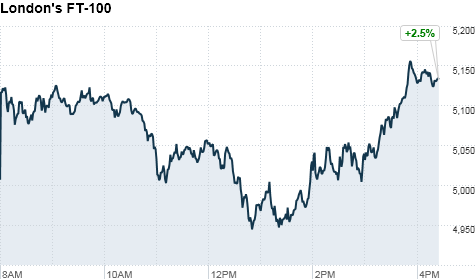 NEW YORK (CNNMoney) -- European markets changed course and surged in afternoon trading Thursday, having started strong and then slumped earlier in the session, while Asian stocks were mostly down.
In afternoon trading, France's CAC-40 (CAC40) was up 1.4%, London's FT-100 (UKX) jumped 2.9% and Frankfurt's DAX (DAX) soared 3.6%.
The rally on Wall Street seemed to be rubbing off on European traders.
Earlier in the day, the CAC-40 was down 2.7%, the FT-100 fell 1.4% and the DAX was off by about 0.7%. Worries over the French financial system were the chief culprits in tearing down the markets.
"Investors are extremely nervous about the problems in Europe," said Michael Hewson, market analyst at CMC Markets in London, earlier in the session. "Nobody knows what the banks have on their balance sheets and whether or not the governments will be able to afford additional contributions to a bailout fund."
European stocks closed at 2-year lows the prior session, amid concerns about the solvency of French bank Societe Generale, or SocGen, and speculation that France, Europe's second-largest economy after Germany, may be first to face a rating cut.
Shares of SocGen were up 4% Thursday on the Paris stock exchange, after having dropped 5% earlier, after having risen 9% earlier than that, all in one session.
Ever since Standard & Poor's stripped the United States of its AAA credit rating on Friday, fears have been building that rating agencies may also downgrade AAA-rated nations in Europe, since they are also struggling with massive debt problems.
"Until there's some sort of conclusion to worries we have about the banks and the governments, we'll continue to see extreme volatility," said Hewson.
Asian markets were mostly down Thursday, dragged down by a slump in U.S. futures following their 4% drubbing on Wednesday.
Tokyo's Nikkei (N225) index finished down 57 points, or 0.6%, at 8,981.94 -- near its high for the day -- after falling as much as 2.2% in the first minutes of trading.
Hong Kong's Hang Seng (HSI) index ended down nearly 1% in late trading, after being down as much as 2.6%.
Australia's All Ordinaries (XAO) index seesawed after an initial loss to finish less than 0.1% lower. (Check world markets.)
The markets faired better on the Chinese mainland. Shanghai's Composite (SHCOMP) index finished 1.3% higher.
Meanwhile, U.S. stocks surged in midday trading, following a rough and volatile start with futures. The Dow Jones industrial average, the Nasdaq and the S&P 500 were all up more than 2%.
Wall Street appeared to be gaining ground from an optimistic forecast by communications equipment maker Cisco Systems (CSCO, Fortune 500). Cisco shares were up nearly 17%.
In the United States on Wednesday, stocks were dragged lower by mounting fears of a banking crisis both domestically and in Europe.
Bank of America (BAC, Fortune 500) was down 11% Wednesday -- its shares had lost nearly 30% in just the past week. But on Thursday, the stock moved up more than 4%.
Investors are worried about potential losses stemming from bad home loans on the bank's books. Bank of America CEO Brian Moynihan on Wednesday said that the bank's $14 billion in mortgage provisions "ought to cover us." The reassuring comments initially calmed investors, but not for long.
Citigroup (C, Fortune 500) was also hit hard on Wednesday, falling more than 10%. But on Thursday, the bank was up 3%.
Investors have also been worried about rising risks of a double-dip recession in the United States. But on Thursday morning, the government released a better-than-expected report showing that the number of people who have filed for weekly unemployment benefits fell to 395,000, a four-month low. Economists expected an increase of 9,000 to 409,000 claims.