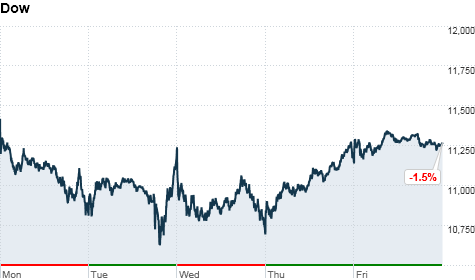 NEW YORK (CNNMoney) -- What a week!
Wall Street ended one of its most dizzying, volatile weeks in history on a relatively quiet note Friday, with the Dow climbing 126 points to post its second gain in a row.
But Friday's action paled in comparison to the wild 4-5% swings investors were faced with earlier this week. On Monday, the Dow plunged 635 points, only to reverse course and jump 420 points the following day. On Wednesday, the Dow sank 520 points followed the next day by a 420-point recovery.
"It's the craziest week I've ever seen. Ever." said Ted Weisberg of Seaport Securities who has been trading at the New York Stock Exchange for 43 years.
In all, the Dow ended the week down 1.5%, a relatively modest percentage since the blue chips had been down as much as 7% earlier in the week. Stocks are still on pace for one of their worst months in since the financial crisis however.
At the close, the Dow Jones industrial average (INDU) added 126 points, or 1.1%, to end the week at 11,269. The S&P 500 (SPX) added 6 points, or 0.5%, to 1,179 and the Nasdaq composite (COMP) increased 15 points, or 0.6%, to 2,508.
It appears, at least for the moment, the fear among investors that Europe is heading toward a financial catastrophe and the U.S. is slipping into another recession has abated. The Dow is up more than 600 points from the low it hit on Tuesday.
"It's hard to say, given how volatile the last couple of weeks have been, but it looks like we could have found a bottom earlier this week," said Matt King, chief investment officer at Bell Investment Advisors.
King said wary investors are trying to take advantage of the low valuations and are tiptoeing back into the market.
"We don't think this will turn into a bear market," King said. "Looking back through history, we can't find a single instance of a bear market that has happened in the face of rising earnings and an accommodative monetary policy."
"Stocks have just gotten so oversold and cheap, and I think that's why we saw a big push higher Thursday and more of it today," he said.
Economy: Investors found some solace in the Commerce Department's July retail sales report, which showed that sales rose 0.5%, including and excluding automobile sales.
Economists surveyed by Briefing.com were looking for retail sales to climb 0.5%, or 0.2% excluding volatile car and truck sales.
The upbeat report helped restore some investor confidence, said King.
The University of Michigan's consumer sentiment reading for August fell sharply, to the lowest level since 1980. The index fell to 54.9, from 63.7 the prior month. Economists were expecting the figure to fall slightly to 62.5.
The Commerce Department said business inventories rose 0.3% in June, slightly less than the 0.5% gain economists were looking for.
Companies: J.C. Penney (JCP, Fortune 500) fell 1% lower after the retailer delivered flat second-quarter earnings and a downbeat forecast.
World markets: European stocks ended solidly higher. Britain's FTSE (FTSE) 100 gained 3%, the DAX (DAX) in Germany rose 3.5% and France's CAC (CAC) 40 added 4%.
The gains came after France, Spain, Italy and Belgium banned short selling of equities in a move to stabilize European markets. Earlier this week, the region's stocks hit the lowest level since the credit crisis in 2008.
"U.S. stocks are going to continue to take their cues from Europe as the biggest short-term danger is their credit crisis," said Bruce McCain, chief investment strategist with Key Private Bank.
Asian markets ended mixed Friday. The Shanghai Composite rose 0.5% and the Hang Seng in Hong Kong edged up 0.1%, while Japan's Nikkei slipped 0.2%.
Currencies and commodities: The dollar was slightly higher against the euro, and but fell versus the Japanese yen and the British pound.
Oil for September delivery rose 34 cents to $86.38 a barrel.
Gold futures for December delivery slipped $8.20 to $1,742.60 an ounce. Earlier this week, gold prices soared to record highs above $1,800 an ounce.
Bonds: The price on the benchmark 10-year U.S. Treasury rose, pushing the yield down to 2.25% from 2.34% late Thursday.